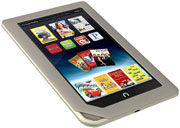 Since Barnes and Noble decided to issue a firmware update for the Nook Tablet, version 1.4.1, that disables the ability to install non-B&N apps from 3rd party sources and kills root, here's how to revert the Nook Tablet back to the original 1.4.0 firmware and block the firmware update from happening.
Unfortunately firmware updates install automatically without giving us an option, so you have to block updates from happening manually. If your Nook Tablet is still on 1.4.0, jump down to the second section for blocking OTA updates. If your Nook Tablet has already updated to 1.4.1 or some future version, here's how to go back to the original user-friendly 1.4.0.
How to Restore Nook Tablet Firmware to 1.4.0
I've used this method that was posted at XDA several times to go back to 1.4.0 and it works but it always makes my "n" button not work. Some people have that problem and others don't. I think it my have something to do with the fact I use the HomeCatcher app to make the "n" button so that it directs to an Android launcher homescreen instead of the B&N Nook homescreen.
In order to get the "n" button to work I have to do a factory reset after the four steps below, which takes the Nook Tablet back to an out-of-the-box state. To do this, hit the quick settings menu, then the settings button in the upper right corner of the popup, then device info, and erase and deregister. You have to connect to Wi-Fi first.
Note: The directions below will restore the 16GB Nook Tablet to stock 1.4.0 firmware and will wipe all user data. There's also a video tutorial of this process included as part of the Nook Tablet Rooting Guide.
Download the Nook Tablet restore file at XDA: Nook Tablet Restore.
Place the file as is on a microSD card.
Power off your Nook Tablet and insert the memory card.
Turn on the Nook Tablet and it will proceed to automatically restore the firmware to 1.4.0.
If you are having problems getting this to work, it's probably because of the memory card. Some won't work for some reason. I use a cheap 2GB Sandisk card and have never had a problem. Check this thread at XDA for troubleshooting.
How to Block OTA Firmware Updates
Unfortunately it seems that the only way to keep the Nook Tablet from updating the firmware automatically is to root it. The good news is that rooting the Nook Tablet is pretty simple.
During the rooting process, it will give the option to block OTA updates. Selecting Yes is a good idea. Otherwise the Nook will automatically update the firmware and break root and other features.
After blocking OTA updates, your Nook Tablet will show software version 9.9.9 under Settings > Device Info > About your Nook.