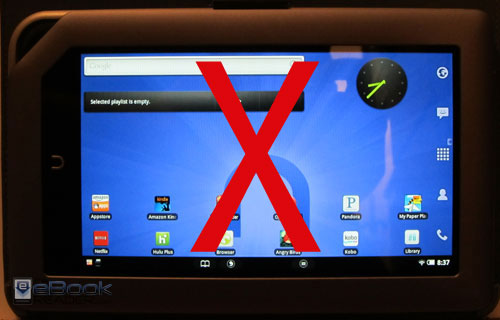 Barnes and Noble suck. They just issued an update for the Nook Tablet that effectively turns it from a full-blown Android tablet into a glorified color ereader with benefits.
The firmware update, version 1.4.1, closes the Nook Tablet off from installing Android apps from non-B&N sources. So now instead of having tens of thousands if not hundreds of thousands of apps available to load on the Nook, now users are stuck with only what B&N provides, about 2000 apps, some of which are 2-3 times what they sell for from other appstores.
What's interesting is that all my sideloaded apps remain on the Nook Tablet after the update, but I cannot install any new apps. It just gives a warning after launching the package installer that only B&N apps from the Nook store can be loaded onto the device.
Ever since the Nook Color update came out with the closed door, I knew the Nook Tablet wasn't safe; that's why I have still yet to post a review of the Nook Tablet, and now I'm not sure that I will. If I could return it I would, but it's been a month, and the return period is only 14 days. Guess it's time to post a rooting guide to get 3rd party apps back, not to mention the Android Market.
I know B&N are just trying to maximize their bottom line, but this is ridiculous. Why allow users to load ebooks on the Nook purchased from other sellers, but now allow users to load apps from other sources? Amazon allows users to sideload apps on the Kindle Fire—that's going to be a huge negative against B&N and the Nook going forward.
Personally, I don't want anything to do with Barnes and Noble's Nook appstore because it is a closed in system—they are going the Apple route. Buy apps from B&N and they will only work on Nook devices, effectively locking you in for life. Buy an app from the Amazon appstore or pretty much any other Android appstore and you can use them on whatever Android device you choose, now and in the future. Because of this, I would highly recommend not buying a Nook Tablet, not unless you want to stick with the Nook brand the rest of your tablet-using life.
I can't believe B&N did this; there's going to be some major fallout after this. You don't release a product with the ability to load non-B&N apps and then close the door on owners a month later, even if it was an oversight to begin with. I think Barnes and Noble are making a big mistake by doing this.
Update: Check this post to learn How to Restore the Nook Tablet to 1.4.0 and Block OTA Firmware Updates.