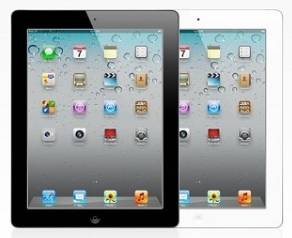 Another March, another iPad launch. To no one's surprise, Apple sent out invitations yesterday for a big press event on March 7th.
It's no secret that Apple is going to announce the iPad 3, and if history is any indication they will start taking orders online and start selling them in retail stores the second week of March (that's how it went down last year).
As usual with a new iPad expected to launch, rumors of its new features are flooding the web. From retina displays and new quad-core chipsets to smaller 8″ iPads and support for 4G LTE wireless, there are plenty of potential upgrades to look forward to.
So lets take a closer look at some of the rumored new features to expect to see on the iPad 3.
Better Screen
Rumors suggest the iPad 3 will feature a "Retina" display, or at least have double the pixel resolution of the iPad 2. So expect the iPad 3 to have at least a 2048 x 1536 pixel resolution screen. My biggest complaint with the iPad as an ereader has always been the text is too fuzzy and pixelated, especially at the edges; doubling the pixels should certainly remedy that problem.
Faster Processor
I don't think many people are complaining that the iPad 2 is slow, but anytime a new model comes out it is likely to get a speed boost. Rumors suggest the iPad 3 will use a quad-core A6 processor, or at least an upgraded dual-core A5 chip. Truthfully, quad-core seems like overkill and would probably hurt battery life so I'd expected the latter.
4G LTE Wireless
The iPad 3 looks to be the fist iPad to get 4G wireless, if you are willing to shell out all the extra dough up front and for a monthly contract. Both AT&T and Verizon are big on pushing their 4G plans so this upgrade is practically a given.
Better Camera
Let's face it. The iPad 2's cameras leave much to be desired. If you're going to add cameras to a tablet then at least do it right. The iPad 3 will most certainly get an upgrade in the camera department, especially considering how much better the iPhone is at taking photos.
Siri on the iPad 3
Surprisingly, this isn't a very big rumor, but it seems logical that Apple would include their new talking virtual assistant on the iPad 3 with it being on the new iPhone and all. Look forward to having Siri guide you through life on the iPad 3 too.
Other Potential Upgrades
While it's not very likely, Apple may finally introduce an iPad with a smaller screen. Rumors favor an 8-inch model. Personally, I would buy an 8″ iPad over a 9.7″ iPad. Some time ago I reviewed the Next3 Android tablet and it had an 8″ inch screen with a 4:3 ratio like the iPad. It is a great screen size; I'm surprised it isn't more common. 7-inch screens like the Kindle Fire and Nook Tablet are great for portability and ereading but are a little on the narrow side.
There aren't any rumors about the speakers on the iPad 3, but hopefully they are a lot better than the iPad 2, which only has one mono speaker in the corner that is too quiet and sounds terrible. The iPad 3 would benefit greatly from a speaker upgrade, with one on each side of the device (sound coming from just one corner sounds odd).
Rounded edges. Okay, so maybe I'm starting to turn this post into what I want to see on the iPad 3. The iPad 2 has thin edges that uncomfortably dig into your hands after holding it for awhile. I'd like the iPad 3 to have more rounded edges to make it more comfortable to hold.
Better battery life. The iPad 2 gets good battery life at about 10 hours per charge. Next generation devices almost always improve on battery life so I'd expect the iPad 3 to increase that number by 10 -20 percent.
What other upgrades do you expect the iPad 3 to have?