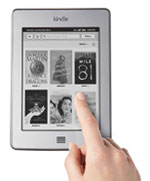 The Nook Touch isn't the only E Ink ereader that can play videos. Developers over at MobileRead have figured out how to get videos to play on the Kindle Touch now too.
It's like watching on an old school black and white TV, and the sound even works. That's plus one for the Kindle because the Nook doesn't have speakers or even a headphone jack.
Unlike the Nook, the Kindle Touch runs Linux instead of Android, so hacking it to run videos is a completely different process. And the source code for this particular video playback hack hasn't been released to the public yet because it is still under development.
Given the refresh limitations of electronic ink, it's crazy that these kinds of devices can play video at all. Take a look.
Kindle Touch Playing Movie