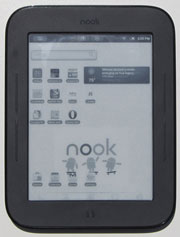 I just stumbled across something so odd that I couldn't help but share it with you. For a long time I've been saying how cool a rooted Nook Touch is, and today the folks at XDA took it to a new level.
In the past I've shown the Nook Touch running live wallpapers and even playing some video games, but now it can even play video, and fairly smoothly to boot.
Sure the Nook Touch has kind of been able to play YouTube videos for a while, but now it can run other converted videos as well. Take a look at these YouTube videos below showing different movies running on a rooted Nook Touch using the NoRefresh enabler app.
It's surprising how smooth the videos runs. Of course the Nook Touch doesn't have any speakers or even a headphone jack so the audio is lost, but it's just the point that video can even run on a device like this with an E Ink screen. Most people never thought it would even be possible.
This how they got the video to run:
1. Download a 'video'
2. Add subtitles to the 'video'.
3. Convert 'video' to GIF (Gifnija , Zamzar).
4. Run it in Opera Mobile on your NST (or in QuickPic).
The Nook Touch is approaching its 1 year birthday in June and it is still proving to be one of the most advanced E Ink ereaders on the market, and it doubles as a pretty sweet E Ink tablet too.
via XDA