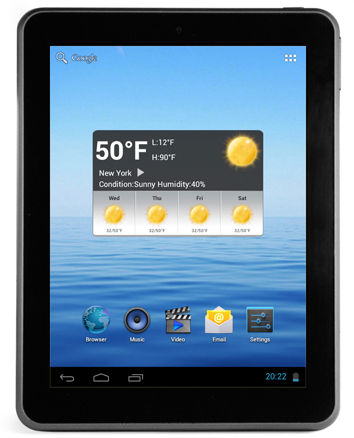 NextBook has released a new 8″ Android 4.0 tablet called the Premium8se. The "se" stands for "Special Edition". What makes it special, apparently, is the Android 4.0 operating system since all the other non-special NextBooks run Android 2.3 and older.
Aside from coming with the latest version of Android, the Premium8se has a front-facing camera, microphone, speaker, Wi-Fi, 4GB of memory, a 1GHz Cortex A8 processor, 512MB of RAM, and microSD card slot.
Unfortunately it does not come with support for the Google Play Store for Android apps. It comes with the GetJar Appstore instead. That's not very special.
The NextBook Premium8se has an 8″ screen, a size that I'm surprised isn't more widely used. It is a capacitive multitouch (5 point) TFT screen with a resolution of 800 x 600.
The US-version of the NextBook Premium8 comes with the Barnes and Noble Nook app on-board for ebooks and periodicals. The Canadian version comes with the Kobo eBook store pre-installed.
Right now HSN has the exclusive first rights to sell the new NextBook Premium8. The MSRP is $249. HSN is selling it for $229. That seems high given the fact it has a single-core processor, but then again there aren't many Android 4.0 tablets out yet.
The early reviews at HSN aren't looking very good so far. 2.5 stars with 66 reviews. There are a lot of complaints about apps not working, especially Netflix. There's no reason it shouldn't work considering it works on older NextBooks; sounds like a firmware update may be in order. There are also complaints about poor battery life.
But it sounds like the main problem is the HSN sales people are over-selling the features, trying to make it sound better than the iPad for the price. That's a stretch. At $229 it's not even a better deal than the Kindle Fire or Nook Tablet, both of which have dual-core processors and higher quality screens.
I've reviewed a couple of NextBook tablets in the past, the Next3 and Next6, and they were nice budget tablets with good designs. I expect to get the NextBook Premium8se in soon to give it a through review too. Subscribe to keep updated.