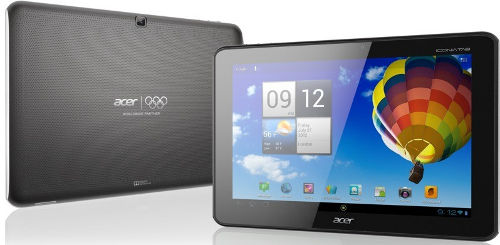 Acer recently unveiled their latest 10″ Android tablet, the Acer Iconia Tab A510, and given the specs and price it could stand a chance at becoming a worthy alternative to the new iPad.
What's surprising is the fact that it's priced the same as the Acer Iconia A500 from last year, even with all the hardware and software upgrades, including double the storage space.
Right now the Acer A510 is up for pre-order on Amazon for $449 with the color options of black or silver. And Acer is an official sponsor of the 2012 Olympics so these are "Olympic Edition" A510 tablets with a small Olympics ring logo on the back.
Now let's get down to the good stuff: the specifications and features.
The Acer Iconia A510 has a 10-point capacitive touchscreen that measures 10.1" diagonally with a resolution of 1280 x 800 for a 16:10 ratio.
It is powered by a 1.3GHz NVIDIA Tegra 3 quad core processor with a fifth Battery Saver core and 12-core GeForce NVIDIA GPU that gives it more speed and better battery life then previous generation tablets.
According to Acer's press release, the four cores provide up to 2.6 times the performance and up to three times the graphics performance compared to previous generation processors. And when the tablet takes on everyday tasks, the fifth Battery Saver Core becomes engaged in place of the other four cores so that it uses less power.
Acer claims the A510's 9800mAh battery can get up to 13 hours of battery life for video playback with Wi-Fi off and 11 hours of video playback with Wi-Fi on.
For storage, the Acer Iconia A510 comes with 32GB internal, and it has a microSD card slot for up to an additional 32GB. It can also connect USB flash drives and portable hard drives to the micro USB 2.0 port.
Other features include a 5MP rear-facing camera, 1MP front-facing camera, micro HDMI port, micro USB port, 1GB DDR2 memory, Wi-Fi, Bluetooth 2.1, stereo speakers, microphone, and the usual sensors: G-Sensor, E-Compass, L Sensor, and Gyro-meter.
On the software side, the Acer Iconia A510 runs the latest version of Android, aka Ice Cream Sandwich (Android 4.0). It comes with a few bundled apps in addition to the usual Google Play store and Google apps, including Polaris Office 3.5, Evernote, Acer's wireless printing app, Kindle, and Netflix.
Surprisingly there are no high-end games listed as included apps; you'd think there would be something to show off the Tegra 3 processor. It does come with the Tegra Zone Android app for access to Android games optimized for NVIDIA-powered tablets.
All in all, the Acer Iconia A510 looks like a pretty well-rounded tablet, and is currently available for pre-order in both the US and Canada for $449. There's no exact release date given yet, but since they are taking orders it should likely start shipping within the month.