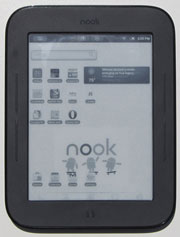 The developers over at XDA have figured out how to enable multi-touch on the rooted Nook Touch.
One of the main benefits of multi-touch on the Nook Touch, along with the No Refresh App, is improved usability for PDF apps. You can easily zoom in and out using pinch-zooming and the No Refresh App keeps the page from flashing black constantly, or refreshing.
Multi-touch comes into play with a lot of apps so the benefit isn't just for PDFs. Games like Angry Birds use pinch-zooming to zoom in and out too (see third video).
The Nook Touch uses an infrared touchscreen that is capable of multi-touch support—in fact the Sony PRS-T1 and Kindle Touch have that feature out of the box—but the Nook Touch has never officially supported multi-touch.
But that didn't stop the developers at XDA from figuring out how to enable it.
The directions for installing multi-touch on the Nook can be found on this thread at XDA. There's a manual install method for those that know what they are doing and a simple install method for installing a zip package with CWM.
This first video below is the latest one and shows not only multi-touch but also automatic no refresh while dragging, much like the Sony PRS-T1. This hack is still under development; you can find updated info on this thread.
Multi-touch and No Refresh When Dragging
Multi-touch + No Refresh = Excellent PDF Reading
Angry Birds Multi-touch Test