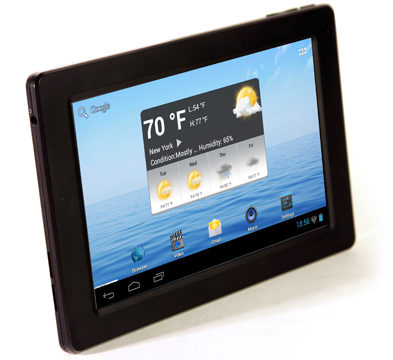 E FUN has been churning out Android tablets under the Nextbook brand at a steady rate since Android tablets first started coming out. Yesterday E FUN announced another new tablet, the Nextbook Next 7S.
The Next 7S runs Android 4.0 Ice Cream Sandwich and ties-in with the Barnes & Noble NOOK store for ebooks and the GetJar App Store for apps, which means it doesn't come with access to the Google Play store for apps, unfortunately.
But on the bright side the Next 7S sells for a wallet-friendly $129. And that's the retail price; these tablets often sell for less than retail. In a couple of months it will probably be in the $99 range.
Let the onslaught of cheap 7″ Android 4.0 tablets continue…
The Next 7S has the same base features as a lot of similar budget Android 4.0 tablets. It's powered by a 1GHz processor (probably a Cortex A8), it comes with 4GB of storage space, it has a microSD card slot, Wi-Fi, a G-sensor, and sports a front-facing camera.
It has a 7″ multi-touch capacitive screen and the resolution is the typical budget tablet 800 x 480.
The Next7S is the second Android 4.0 tablet from Nextbook. Last month they released the Nextbook Premium8se, a similar tablet feature-wise but with some upgrades and a larger 8″ screen.
I've reviewed some Nextbook tablets in the past. They tend to have sleek designs that are above average for the budget tablet category. The software is fairly typical. I'm going to try and get my hands on the Next7S to review.
Nextbook Premium Next 7SE Video Review