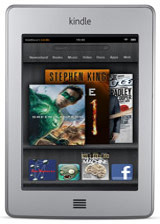 I've been working on this website and blog for nearly three years now, and during that time I've noticed a weird phenomenon. Every month or two some unreliable source from some big-name website posts a ridiculous article proclaiming the release of some future gadget from Amazon, Apple, or any other big company.
And then every other tech website under the sun feels compelled to re-write the article and spread the baseless rumor over and over again. And then two months later some other website will pickup the same rumor, put a different spin on it, and then the rounds will start all over again.
This time around DigiTimes is proclaiming that "Amazon is likely to launch color e-book readers in 2H12" in their very insightful, fact-bloated, whopping 6 sentence article.
And not only is Amazon going to release color E Ink Kindles, according to DigiTimes, they are also going be ditching the infrared touchscreen in favor of capacitive touchscreens.
That just shows how ignorant DigiTimes really is.
Capacitive touchscreens and E Ink don't mix. It's been proven time and again. Adding a layer over the top of an E Ink screen degrades the quality and contrast of the text. Other companies have tried it, and I could see some small company try it again, but Amazon is not that stupid.
Any loss in contrast is going to be seen as a huge negative. There are already a bunch of people complaining how the new Nook Touch with GlowLight has less contrast than the original Nook Touch because the GlowLight Nook has a screen protector over the screen to aid with light distribution. The difference in contrast is fairly minimal, and even still it has caused an issue for some.
Amazon already uses the infrared touchscreen on the Kindle Touch and it works great; it's proven to be the perfect touchscreen technology for E Ink ebook readers. Plus it already supports multi-touch, so what would be the point of suddenly switching to a capacitive touchscreen?
And we haven't even gotten to the point of color E Ink yet. It has been out for nearly 2 years. If Amazon planned on using it they would have by now. The simple fact is color E Ink isn't very good.
Then consider the Kindle Fire for a moment and how hugely successful it has been. Does it really make sense for Amazon to release new tablets this year, which they most certainly will, and color E Ink Kindles at the same time? Most people that want color are just going to go with a tablet instead. Washed out color E Ink isn't going to stand a chance next to a bright LCD tablet's screen, especially when the price between the two isn't going to be very far off with the high cost of E Ink.
And color makes no difference when it comes to reading ebooks anyway, not unless you favor blue text. Textbooks, comics, and periodicals benefit from color, but all are much better experienced on a tablet. It's ten times more likely that Amazon will release a 10″ tablet aimed at eTextbooks and other color content than a color E Ink Kindle. The functionality of a tablet is leaps and bounds beyond that of a E Ink device; the color of the screen doesn't change that fact in the least.
Unless color E Ink technology changes dramatically in the next few months, Amazon won't be launching a color E Ink Kindle later this year. The source is common sense, DigiTimes. Not some anonymous Chinese parts supplier.