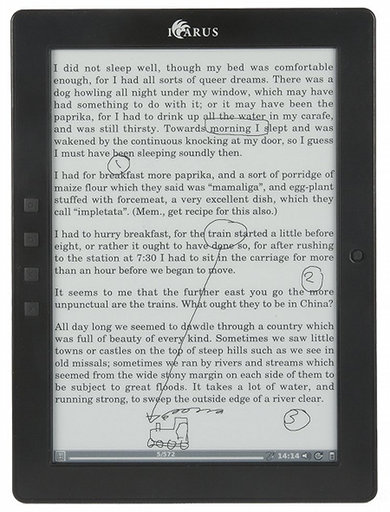 I stumbled across an interesting new ebook reader listed on Amazon this morning called the Icarus Excel. It sells for $349, which is actually $30 less than Amazon's own Kindle DX, and from a features standpoint the Excel looks like a better choice.
There's hardly a shred of information about the device on Amazon so I looked up the Icarus Reader website and it turns out the Icarus Excel hails from the Netherlands and has been available in Europe for the past couple of months.
The Icarus Excel has a 9.7″ E Ink Pearl screen with a resolution of 1200 x 825. That's the same as the Kindle DX, but the Icarus Excel has the edge by the fact it has a touchscreen, a Wacom Touchscreen to be precise, with which a stylus can be used to add on-screen notes, highlights, and sketches.
Other hardware includes Wi-Fi, 4GB of memory, an SD card slot, built-in audio player, and 1,600 mAh Lithium Ion battery that will get about 8,000 page-turns for battery life.
From a software standpoint, the Icarus Excel comes with what looks like a solid set of features. There are notes, highlights, a built-in dictionary, search, bookmarks, file explorer, manual screen rotation, 10 font types, go to page, automatic page-turns, and text-to-speech. It has a sketch application, notes application, and a web browser.
Supported file formats include ePub, PDF FB2, RTF, TXT, HTM, PRC, JPG, BMP, PNG, and MP3. It also supports Microsoft office files: DOCX, XLSX, and PPTX.
The Icarus Excel looks like an interesting device, but the cost of these larger ebook readers is out of the ballpark for most people. Historically, $349 isn't a bad price for a 9.7″ E Ink ebook reader, but with all the high-end tablets dropping to the $399 price-range this year it makes it even harder for large E Ink ereaders to take off and really excel, pardon the pun.