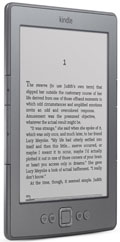 Amazon has issued a software update version 4.1.0 for the Kindle 4, the non-touchscreen Kindle that sells for $79 with ads and $109 without ads.
As usual, you can download and install the update manually now, or wait for the update to be automatically pushed to your Kindle over WiFi in the coming weeks.
The update adds a number of new features, most notably improved contrast for darker text, parental controls for the web browser, and support for Amazon's more advanced Kindle ebooks that use Kindle Format 8.
Here's the complete list of new features in the 4.1.0 update via Amazon:
Improved reading font that is higher contrast and crisper so that you can enjoy a paper-like reading experience.
Parental Controls now allow you to restrict access to the Experimental Web Browser, Archived Items and the Kindle Store.
Support for books with complex layouts and formats with Kindle Format 8
Support for children's books with Kindle Text Pop-Up and comic books with Kindle Panel View (which allows you to read a comic book panel by panel). Books that support these features will be available from the Kindle store over the next few weeks.
Dictionaries grouped into a system collection in Home and Archived Items called "Dictionaries" for better organization.
On supported titles you will notice an improved table and image viewer that allows both panning and zooming.
To install the update manually, Download Software Update 4.1.0 from over at Amazon. Then connect your Kindle to your computer and drag the update file onto the root of the Kindle drive.
After ejecting the Kindle from your computer, install the update by pressing the menu button from the homescreen, then choose settings, then press menu again and choose to Update Your Kindle. Voila!