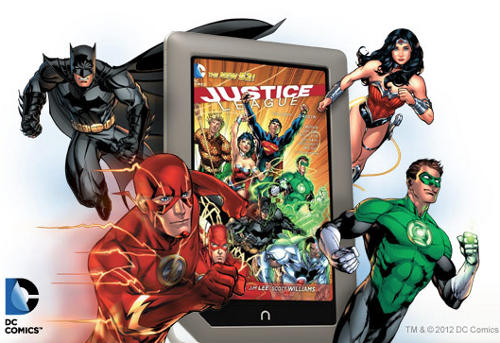 Today Barnes and Noble announced that DC comics and graphic novels are now available in the Nook Comics Store for the Nook Tablet and Nook Color. The 100+ DC Comics are also available on any Android tablet with the Nook for Android app installed.
I guess this means the spat between Barnes and Noble and DC Comics is at an end. Last year Barnes and Noble pulled DC comics from stores when DC signed an exclusive deal with Amazon to bring digital editions of their comics to the Kindle store.
The exclusive contract with Amazon is over so everyone can be friends again. Now Nook Color/Tablet/Android App owners can download Batman, Sandman, Superman, The New 52, and plenty of other DC Comics and graphic novels too. In fact, B&N now has over 4,000 comics and graphic novels available in the Nook Comics Store.
In addition to the new content, Barnes and Noble has issued a firmware update for the Nook Tablet and Nook Color to add some new features.
They are adding "Zoom View" to all Nook Comics, not just DC Comics, that lets readers zoom in on single panels to make reading the text and viewing the graphics easier.
Basically it's the same kind of thing as "Guided View" on the Comixology app and Amazon's "Kindle Panel View".
Another addition with the new Nook software (version 1.4.3) is 2-page mode in landscape for viewing PDF documents and Barnes and Nobles enhanced "PagePerfect" books.
The only other thing B&N mentions regarding the update is "minor system enhancements".
The updates will start rolling out automatically to Nook Colors and Nook Tablets over WiFi starting tomorrow, June 27th. Or you can install the update manually by following the directions at Barnes and Noble below.