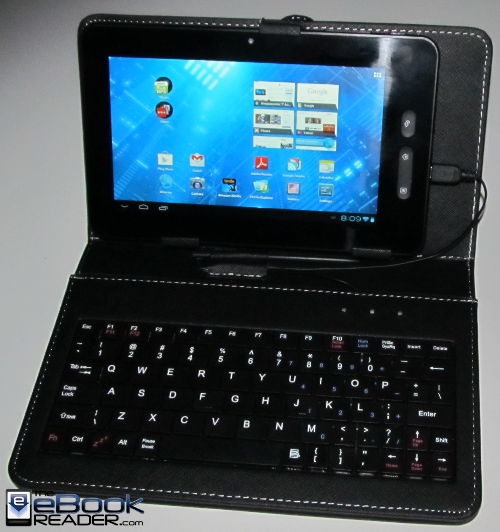 Last week Idolian released a new budget tablet with Android 4.0 called the IdolPad Plus. It is being marketed as the least expensive tablet in its class, and they weren't kidding about that. It's selling for only $89 on Amazon and Idolian.com right now.
Earlier in the week I received a loaner to review, along with a nifty keyboard case, and so far my initial impressions are generally positive. I'll post full reviews of each in the next couple of weeks after more testing. Right now I wanted to write down some getting started tips for the IdolPad Plus since some things are unclear, especially for beginners.
But first, some background information. The IdolPad Plus is a 7-inch tablet with a 1.2 GHz processor, microSD card slot, front-facing camera, mini HDMI port, and a micro USB port with a full size USB adapter cable included.
It has 4GB of internal storage with 512MB of RAM. There's a speaker on the back, a headphone jack, and microphone. It has a couple of buttons on the front for home, back, and menu, along with volume buttons and a power button along the top edge.
Probably the best thing about the IdolPad Plus is that, unlike most other cheap tablets, it comes with the Google Play store, which grants access to the widest selection of Android apps. Finding the Google Play store app at first can be a little tricky, however.
Google Play Store Fix
The weird thing with the IdolPad Plus is that when you first turn it on and start looking around, there's no app for the Google Play store to be found anywhere.
I ended up finding it by accident in a roundabout way. The best thing to do is this:
Go to Settings, scroll down to Development options, then click the box at the bottom of the list that says Show Google Applications.
Now you can go into the app drawer from the homescreen and the Google Play app will be there, along with Gmail. Once you sign into your Google account you can download the other Google apps too.
Chrome Browser
I discovered that a good share of apps appear in the Google Play store for the IdolPad Plus, but not all. Some are mysteriously missing, like the Chrome web browser.
You can often find missing apps in alternate appstores, and that's just what I did.
1Mobile has the updated Chrome web browser for download, and it works fine on the IdolPad Plus despite not showing up in Google's appstore.
I like the features of the stock browser for Android 4.0 but it is always freezing and crashing no matter what tablet you use it on. The Chrome browser just came out of beta and it's promising so far, despite being a little slim features-wise.
Installing Non-Market Apps
Before you can install the Chrome browser or any other apps from outside the Google Play Store, you have to enable third-party apps in settings.
Do this by going to Settings > Security and check the box for Unknown sources.
Using an HDMI Cable
I've found that using an HDMI cable with the IdolPad Plus is a little different than some other tablets. Most switch over to the TV automatically or use the HDMI switcher app, but with the IdolPad you need to go into Settings and then HDMI to turn on the connection. From there you can adjust the resolution and zoom settings too.
Turn off Spellchecker
One annoying thing about these budget tablets is they always seem to have the spellchecker enabled but never seem to have a personal dictionary installed, so every word you type gets underlined in red.
To turn this off go to Settings > Language and Input > Spelling correction.
Unfortunately I haven't found any way to install a working personal dictionary to get spellcheck to work, other than adding words manually. If you know how please leave a comment. Installing other keyboards can help with predicting text, but it's not exactly the same.