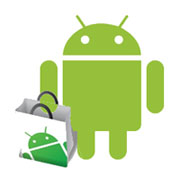 Below you will find a list of seven places to download and install Android apps for your Android tablet, phone, or ereader, including the Kindle Fire, Kobo Vox, rooted Nook Touch, Pandigital tablets, and pretty much any other device that allows the installation of third party apps.
Since a lot of tablets don't come with access to the official Android Market, users have to either find a hack to add it to their device, which can be complicated and often voids the warranty. The easier option is to use alternatives appstores. That's where this post comes in…
Seven Alternative Android Appstores
1. Amazon Appstore – The Amazon appstore is my favorite alternative appstore for two reasons: it is easy to install (just type this url into your Android device's web browser: http://www.amazon.com/app-email/); and Amazon gives away a free paid app every day. I've accumulated over 300 free apps, mostly games, but they occasionally giveaway expensive productivity and utility apps too. The only problem with the Amazon appstore is that it is US-only at this time.
2. GetJar – The GetJar appstore is a free appstore with over 350,000 apps. Just download the GetJar app to your device and you can use it to search and install free apps to your heart's content.
3. 1mobile – I recently came across 1Mobile and it's quickly becoming one of my favorite alternative appstores. They don't make you sign in or download their app (you can if you want) or anything annoying, you can just download apk files directly using a web browser without any extra nonsense. Plus they have a wide selection of apps, over 60,000. Update: they changed it so you can't download apps directly and instead have to install their app directly.
4. SlideMe – The SlideMe appstore is another popular alternative to the Android Market. Their app often comes with budget Android devices not capable of connecting to the Android Market. You can download apk files from them with a web browser or install the SlideMe app on your Android device to search and install directly.
5. Opera Mobile App Store – You may have heard of the Opera web browser. There's also the Opera Android appstore, with free and paid apps. They have appstores for other platforms as well.
6. Android Freeware – Android Freeware isn't exactly an appstore, they just list a bunch of free apps and make it easy to download the apk install files using a web browser. It's a good place to go if you want to quickly find and install an app your looking for, but they aren't always up-to-date.
7. Soc.io Mall – Previously the AndAppStore, Soc.io is another alternative appstore but it's unique in that they also offer free ebook downloads, audio books, and music and video are coming soon.