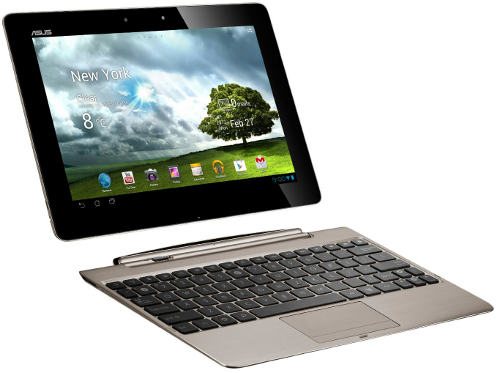 Asus's new high resolution Transformer Infinity TF700 tablet has started showing up from various retailers, including Office Depot, B&H, TigerDirect, and Amazon.
There are four different variations available, with two color options, champagne and gray, and two memory options, 32GB and 64GB. The 32GB model sells for $499 and the 64GB costs $599.
And of course like Asus's other Transformer tablets there's also an optional keyboard dock available for an extra $149.
Some retailers are showing the Transformer Infinity as shipping now, while others show it as out-of-stock. And some have it listed as pre-order.
Amazon has one over-priced model shipping now and others listed as shipping in 1 to 2 months. But since its not a pre-order I'd assume that means they just haven't gotten any delivered at their warehouse yet—I bet they ship by the end of this month (I ordered a 32GB Champagne model so I guess I'll find out).
Here are the various listings at Amazon:
Keyboard Docks:
The Asus Transformer Infinity is a high-end Android tablet with a 10-inch ISP+ display and is among the first tablets to come with the higher resolution 1920 x 1200 screen. It runs Android 4.0, which likely be updated to 4.1 Jelly Bean soon, and is powered by a 1.6GHz Tegra 3 processor.
Other features include Bluetooth, mini HDMI port, front (2MP) and rear (8MP) facing cameras with rear LED flash, microSD card slot, a bunch of sensors, Gorilla Glass 2, and 9.5 hour battery life (14 hours with dock).