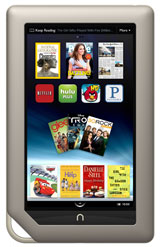 Barnes and Noble runs more sales on their tablets and ereaders than anyone, and today it's looking like things are getting a little desperate. Either that or B&N is starting to clear way for a replacement to the Nook Tablet.
Barnes and Noble is currently selling refurbished Nook Tablets for just $140 from their eBay store. That's by far the lowest price the Nook Tablet has ever been, at that's for the 16GB model no less. Usually it goes for $199 refurbished and $249 new.
Last week B&N started selling 8GB Nook Tablet refurbs for $159. Oddly they are still at that price despite the fact the 16GB model is now selling for cheaper.
With all the other tablets on the market, and especially the Google Nexus 7, it's easy to see how the Nook Tablet is getting left behind with it's closed-in software and walled-in platform.
If Barnes and Noble still wants to continue selling tablets, they are really going to have to take things up a notch because competition is getting a lot tougher than it was a couple of years ago when they first released the highly-popular Nook Color.
It's hard to imagine what B&N could do to stay in the fight given the slim selection in their appstore and the way they insist on keeping everyone locked into the B&N platform instead of letting people get apps from wherever they please.
There was a rumor going around a few weeks back that suggests B&N is going to release a new tablet with "revolutionary screen technology" that has not been seen in another product before.
Unless B&N decides to go with a more open approach, that's about the only thing that could be their saving grace moving forward. Hopefully they've got some new super-secret display technology that will set the new Nook Tablet apart from everything else out there.