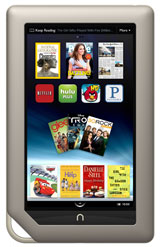 Barnes and Noble must have a lot of Nook Tablets lying around because every week the Nook Tablet deals just keep getting better and better.
This time around they are offering the 8GB Nook Tablet for just $159 through eBay and B&N.com. It's refurbished, not new, but it's certified pre-owned and has been tested and inspected and comes with the same warranty as the new ones.
The Nook Tablet doesn't have nearly as much going for it as the new Google Nexus 7 tablet that can be had for $199, but it does have one major advantage in that it has a microSD card slot for memory expansion. Battery life is a little better too.
Still, I don't see how B&N is going to sell very many Nook Tablets now that the Nexus 7 is out. The Nexus 7 has superior hardware and software. A Nook Tablet is basically a children's toy by comparison given B&N's lockdown of the operating system and apps.
Luckily the Nook Tablet can easily be hacked and turned into a proper open Android tablet. It can run CM7 for Android 2.3 or CM9 for Android 4.0. There's even an early ROM for Android 4.1 Jelly Bean, but unfortunately it won't run on an 8GB Nook Tablet yet.
Even if you don't hack the Nook Tablet it makes for a good ereader and basic tablet out of the box for $159. The new ones sell for $40 more.
Update: For the next 2 days, Livingsocial.com has new 8GB Nook Tablets for $169. (Thanks Carlos!)