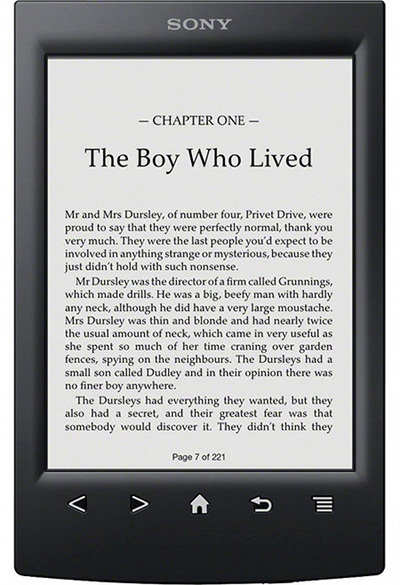 We all knew Sony was planning on releasing a successor to their PRS-T1 ebook reader when the PRS-T2 went through the FCC last month, and while Sony has yet to release any official information on their new ereader, the Sony Reader PRS-T2 has turned up for pre-order for $129 from J&R.com in three colors: black, white, and red.
As you can see from the picture, the design has changed somewhat. The plastic looks like it has more of a matte finish now instead of glossy, which was a common complaint with the Sony PRS-T1. The buttons have a new look now as well.
However, if the product description at J&R is accurate, the new look appears to be the biggest change—most of the specs for the PRS-T2 are identical to the Sony PRS-T1.
It still has an 800 x 600 E Ink Pearl screen (no HD screen?) with infrared touch, a microSD card slot, WiFi, 2GB of memory (1.3 usable), and the usual long battery life, although they've changed the wording on that a bit to make it sound better.
But not all hope is lost. Here is one potentially interesting new feature mentioned in the description: "More advanced features – Evernote Clearly and Facebook for Reader." Not sure what that means exactly. Also, there's mention of less flickering with page-turns so it looks like they've added partial refresh like the Kindle and Nook.
Other details mentioned include downloading ebooks from public libraries, shopping the Sony Reader store, 6 built-in dictionaries for definition look-up and translations into English, French, or Spanish, and the usual support for Adobe DRM and ePub, PDF, and TXT formats. Sony is advertising the PRS-T2 as the world's lightest ereader at 5.9 ounces.
There's no mention of audio file support or a headphone jack so it looks like the audio player may have been nixed on this model.
It also looks like Sony is finally getting their official Harry Potter tie-in (last year they initially advertised the PRS-T1 with a download code for a free Harry Potter ebook, but that got yanked once Pottermore got delayed until this Spring). This time around it says a free Harry Potter ebook comes pre-loaded on the PRS-T2.
Nevertheless, Sony hasn't officially announced the PRS-T2 just yet so some of the details might change. Subscribe to The eBook Reader Blog to keep updated on future developments.
Update: I ran a search and turned up a flyer for something called MCX Core Brands that advertises the new PRS-T2 ebook reader for $99 during their Anniversary sale that runs September 5th – 18th. If that's any indication, the PRS-T2 should be released within the next 4 weeks.