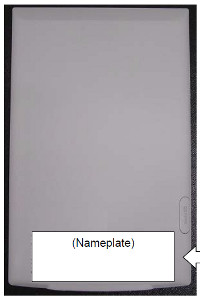 Every year around August to November Sony releases a new ebook reader, and like clockwork, it looks like Sony is already preparing to release a successor to the Sony Reader PRS-T1 from last year.
The Sony PRS-T2 showed up on the FCC website this week. The big question, though, is what new features does it have?
Unfortunately the FCC paperwork is mostly technical blah blah blahery that reveals little information. The Sony PRS-T2 is described as a digital book reader with Wi-Fi. That's about it.
The good news is that Sony is definitely going to reveal a new ebook reader sometime in the near future. But we are left guessing what features it will have.
The Sony PRS-T1 is already pretty stacked with features as far as ebook readers are concerned. It has a 6-inch E Ink Pearl display with a 800 x 600 resolution. It has an infrared touchscreen that supports multi-touch, a built-in audio player, headphone jack, 2GB of memory, and a microSD card slot.
Some advanced features include adding freehand notes on-screen, borrowing library ebooks directly, pinch-zooming, it has a competent web browser for E Ink, and it runs Android and can be hacked to run all kinds of applications.
Given the one and only picture that shows the PRS-T2 from the back, it looks a lot like the PRS-T1, so we can rule out a large screen ebook reader or any major changes.
About the only thing they could do at this point in time is improve the screen by using one of the higher resolution 1024 x 768 displays, or add some LED reading lights like the Nook Touch with Glowlight, or maybe even go for Color, but that last one isn't very likely.
Hopefully they will get rid of the glossy plastic frames. The older Sony Readers had nicer aluminum frames, but they went to plastic with the PRS-T1 to cut the price down to Amazon's level. Plastic is fine if well done; just don't make it glossy, Sony.
What new features do you think the new Sony Reader PRS-T2 will have?