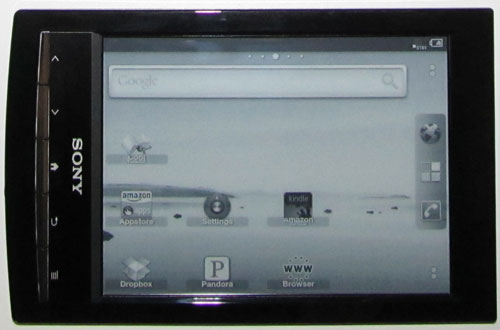 If you've been eagerly awaiting directions on how to root the Sony PRS-T1, I've got good news. Rooting directions have been posted over on a Russian website, and you don't even have to sacrifice the Reader's stock functionality because that continues to work like normal.
The rooting package is still in its early stages, and I wouldn't recommend it for beginners, but if you know your way around Android it provides for a good starting point. I managed to root my PRS-T1 in about 5 minutes, and I've got video proof below.
All I did was follow these directions. I used the second package, minimal root set 2. Download the file and unpack it, connect the Sony PRS-T1 to your computer and enter Data Transfer Mode, then double-click the file "flash_reader.bat" located in the downloaded folder. Select yes to proceed, then wait a few minutes until it asks to hit any key. The Reader will reboot and then it's good to go.
It does not have Android Market or Google apps yet. And there's very little memory to install apps. But at least it is progress.
The root package comes with the following apps pre-installed: AWDLauncher, SuperUser, Dropbox, AnySoftKeyboard, CoolReader, ColorDict3, Terminal, RootExplorer, Gallery3D, ColorPicker, PackageInstaller, and Calculator.
I was able to install the Amazon Appstore and Kindle for Android app using the pre-installed Dropbox app to transfer the apk file. The Kindle app works surprisingly well. Tapping the screen to turn pages refreshes normally without a lot of excessive flashing. Aside from the page buttons not working, all the features seems to work fine.
I couldn't get Aldiko to install. And I briefly tried ezPDF Reader but the excessive screen flashing makes it painful to use. That's one of the problems with the PRS-T1, the screen often refreshes way more than it needs to, causing an inordinate amount of black flashing.
It turns out the Sony PRS-T1 runs Android 2.2. The speed of operation on the rooted PRS-T1 is pretty quick. The page buttons usually don't scroll the screen though, so that gets annoying. The rooted Nook Touch is a lot more functional at this point, hopefully the Sony PRS-T1 can catch up to it. The Sony offers a few perks over the Nook in that it supports audio and multi-touch, and has the hardware buttons.
I'll post more about rooting the Sony PRS-T1 later in the week. Subscribe to keep updated. Here's the link again for the directions:
Sony PRS-T1 Rooting Directions »
Please post your results if you decide to try root your Sony Reader.
Rooted Sony PRS-T1 Video Review