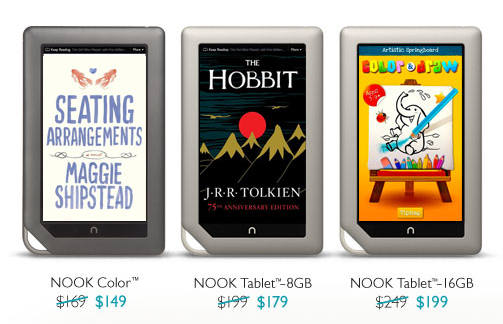 Barnes and Noble has been running so many sales on their Nook devices lately that it's hard to keep up with all the different promotions.
This time around it's more than just a sale, though. In the ever competitive market of Android tablets, the Nook Color and both models of the Nook Tablet have received permanent price drops.
The 16GB Nook Tablet has gone from $249 to $199, the 8GB Nook Tablet is down $20 to $179, and the Nook Color has gone from $169 to $149.
The E Ink Nook Touch and Nook Glow didn't receive a price drop, however, just the LCD models.
There are some refurbished Nooks at Overstock that are pretty cheap too. They have a Nook Touch for $60 and a Nook Color for $115.
All the major tech sites have been abuzz lately with rumors of Amazon releasing a new Kindle Fire or two, along with an E Ink Kindle with a lighted screen, but not much is being said about Barnes and Noble's next device.
These price drops could be a sign that B&N is getting set to release a new tablet too. Perhaps a new and improved Nook Tablet is just around the corner. Or maybe B&N will finally release a 10″ model aimed at the education market with a focus on digital textbooks and study tools.
Whatever it is, Barnes and Noble is going to have to do something different to stand out from the crowd. Even at these lower prices it's hard to choose a Nook over something like the Google Nexus 7.