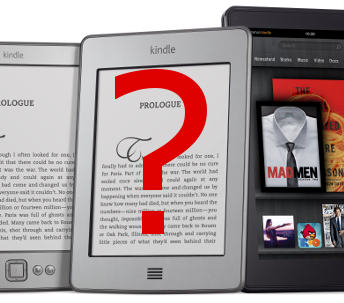 So the big news this past week is that Amazon sent out invites to a press conference on September 6th where they are expected to unveil new Kindle ereaders and tablets.
Rumors have been floating around all year about Amazon releasing a Kindle Fire 2 and a new E Ink Kindle with a lighted screen, much like the Nook Touch with GlowLight. Details on these potential new devices haven't surfaced yet, at least nothing substantial or credible, so we are left to speculate.
Here are my predictions on the new line of Kindles that Amazon is about to release:
1. Kindle Touch with GlowScreen. I doubt that's what Amazon will call it but you get the gist. This one seems like a lock to me. All four Kindle Touch models have slowly disappeared from Amazon, with the exception of refurbished units and used ones. Given that fact, there's a good chance Amazon will start shipping the new Lighted Kindle Touches when they announce them on September 6th like they did last year with the Kindle 4.
Aside from a light layer added to the screen, I expect the new Kindle Touch to remain 95% the same as the old Kindle Touch. It would be nice if they added physical page buttons on the side like the Kindle 4, but it's unlikely they'd change the whole design just for that. The light will be the main change, and I wouldn't be surprised if Amazon keeps the prices the same as before too, with the usual options for 3G and special offers.
2. Kindle Fire 2. I'm predicting that Amazon will release a Kindle Fire 2 that will be very much like the original but it will have an upgraded higher resolution screen, a slightly faster processor, a slimmer design, and maybe even a front-facing camera. Basically it will be a lot like the Google Nexus 7, perhaps minus the quad-core processor to keep cost down. I doubt it will have a memory card slot or HDMI port or a rear camera; those will be on the new 10″ model.
3. 10″ Kindle Tablet. This is where it gets interesting. I don't care what any of the rumors have to say, I think it's basic common sense that Amazon is going to release a tablet with a larger 10″ screen. Considering how successful the Kindle Fire has been, Amazon would be foolish not to get into the larger tablet market too.
I think the 10″ Kindle Tablet will have a lot of nice features, such as front and rear facing cameras, a micro HDMI port, Bluetooth, and hopefully a memory card slot, although that hasn't been Amazon's MO in the past so I won't hold my breath.
I also think the 10″ Kindle Tablet will be geared more toward education markets.
Over the past several weeks, Amazon has been heavily advertising their Kindle Textbooks on the Amazon.com homepage. In fact nearly every single time I visit Amazon's homepage (except today because they have a message up), the big prominent ad at the top is for Kindle Textbooks on the iPad. I bet that focus is going to quickly change to Amazon's new large tablet instead.
Those are my predictions of the new set of Kindle devices. What are yours?