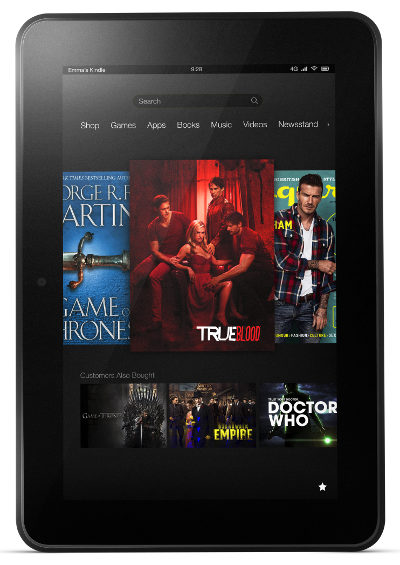 Amazon has decided to release not one but three new Kindle Fire HD tablets (six if you count the different storage options). That's in addition to the two new E Ink Kindles and an updated version of the original Kindle Fire.
The revamped Kindle Fire 1 is now only $159. It's mostly the same as the original but offers 40% faster performance thanks to a new faster processor and double the RAM. It also boasts longer battery life, now up to 9 hours for reading.
The new $159 Kindle Fire is up for pre-order right now and is expected to start shipping on September 14th.
Now onto the HD Kindle Fires. There are three models, each with two options for internal storage space. One has a 7" screen with a resolution of 1280 x 800 and the other two have 8.9" screens. One of the 8.9" versions is a high-end model called the Kindle Fire HD 4G LTE. As the name implies, it comes with 4G wireless. It also comes with 32GB or 64GB of storage space and the other models without 4G come with 16GB or 32GB of storage space.
Both 8.9" Kindle Fire HD tablets have a screen resolution of 1920 x 1200. That's 254 pixels per inch! HD indeed. The HD tablets boast a micro-HDMI port, Bluetooth, 25% less screen glare, a front-facing HD camera, Dolby Audio dual-driver stereo speakers, and dual-band/dual-antenna (MIMO) 5GHz Wi-Fi.
The 7" HD model has a dual-core 1.2GHz processor and offers up to 11 hours of battery life. The 8.9" models sport a 1.5GHz dual-core processor and don't specify battery life.
Now for pricing.
The 7″ Kindle Fire HD is $199 for the 16GB option and $249 for 32GB. The 8.9″ Kindle Fire HD with Wi-Fi costs $299 for the 16GB model and $369 for the 32GB model. The 4G Kindle Fire HDs cost $499 for 32GB and $599 for 64GB. All Kindle Fire models now include special offers and lock-screen ads so the low price comes at a slight cost.
The 7″ Kindle Fire HD starts shipping on September 14th. The 8.9" Kindle Fires don't start shipping until November 20th.
With regard to the 4G LTE models, Amazon is offering a special deal for a low-use data plan. It's $50 per year and grants access to 250MB per month.