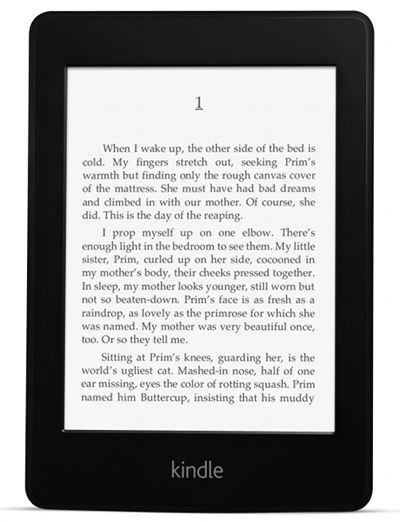 Along with the new Kindle Fire tablets, Amazon announced the release of a pair of new Kindle E Ink ebook readers today, a new Kindle Touch called the Kindle Paperwhite that has a light built into the screen and an updated version of the non-touchscreen Kindle for $69.
The new Kindle Paperwhite ebook reader uses a high resolution screen with 212 pixels per inch. It provides 62% more pixels and 25% improved contrast over previous Kindles.
The Kindle Paperwhite also comes with a front light built into the screen much like the GlowLight Nook Touch and Kobo Glo. Amazon is using a patented nanoimprinted "light guide" to evenly distribute the light over the screen.
What's more, Amazon says the Kindle Paperwhite can get up to 8 weeks of battery life even with the light turned on. Another interesting detail, it uses a capacitive touchscreen instead of the infrared touchscreens used on other ereaders.
At 9.1mm, the new Kindle is slightly thinner than the original Kindle Touch, but has the same weight: 7.5 ounces.
Some new software features include optimized fonts, faster page turns, and a new "Time to Read" feature that estimates how long it will take to finish a chapter or the entire book based on your average reading speed.
The Kindle Paperwhite is up for pre-order right now from Amazon and is expected to start shipping on October 1st. The price is $119 for the WiFi model and $179 for the 3G version. Those include Special Offers. The ones without screensaver advertisements cost $20 more.
Amazon also updated their basic non-touchscreen ebook reader and dropped the price from $79 to just $69. That's the ad-supported model, of course. The non-ad version is $20 more. It has a new darker color but otherwise appears to be unchanged. The new non-touch Kindle is up for pre-order and starts shipping on September 14th. Here's a picture of it: