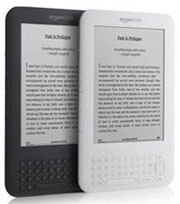 Today Amazon released a software update for the Kindle Keyboard, also known as the Kindle 3. The update is somewhat surprising seeing as how that model is a couple generations old, but it's good to see Amazon continuing to support the older Kindles.
It also appears that they intend to continue selling the Kindle Keyboard 3G even with the release of the new models for those that want a keyboard and the extra accessibility features (text-to-speech and voice guide). It's also the only Kindle with free web browsing over 3G (the newer ones are limited to Amazon and Wikipedia over 3G). So even though the Kindle Keyboard is a couple years old it still has its pluses.
The new software update is version 3.4 and it will be wirelessly delivered automatically to Kindle Keyboards in the upcoming weeks. Or you can download the update from Amazon right now and install in manually. The directions are on the other side of that link, and make sure to download the proper version for your model; there are three variations.
This is a fairly major update. Here are the list of changes via Amazon:
Software Update Version 3.4
Version 3.4 is a brand new, free software update for Kindle Keyboard that includes:
Improved Font: We've improved the reading font to have more contrast and be more crisp.
Parental Controls: With the latest software update for Kindle Keyboard, parents can restrict access to the Experimental Web Browser, the Kindle Store, and Archived Items. While the Kindle Store and Archived Items are locked with Parental Controls, you can continue to buy books from a computer and send them to the Kindle wirelessly for a child to read.
Kindle Format 8: KF8 makes books look even better with support for author specified fonts and more book styling options.
Comic Books: Kindle Keyboard now supports comic books with Kindle Panel View. Supported titles can be purchased from the Kindle Store. Books open in Kindle Panel View by default (a view that allows you to read a comic book panel by panel).
Children's Picture Books: Kindle Keyboard supports children's picture books with Kindle Text Pop-Up. Supported titles can be purchased from the Kindle Store.
Whispersync for Voice: Now you can switch back and forth between reading and listening without losing your place. Whispersync for Voice will synchronize what you read on any Kindle platform device with Audible playback on Kindle Keyboard, Kindle Fire, or on Audible apps for iPhone and Android.