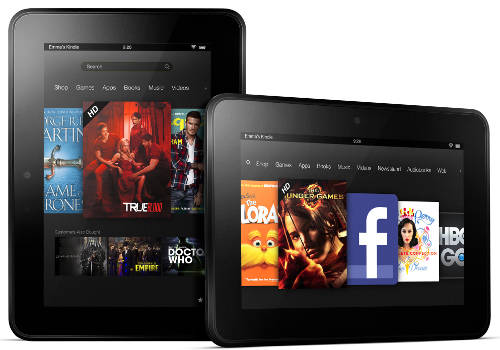 Among the new features Amazon is adding to their new line of Kindle Fire tablets is text-to-speech to read ebooks aloud. This used to be one of the main features that set Amazon's E Ink Kindles apart from the competition because none of the other major brands have ever offered text-to-speech.
But now that Amazon is trying to make their E Ink Kindles as cheap as possible, they are no longer getting text-to-speech either. Both new E Ink Kindles lack any kind of audio support. That's not surprising when it comes to the $69 Kindle considering how inexpensive it is, but it is rather surprising that the new Kindle Paperwhite doesn't support text-to-speech or audio files.
I guess if you really want text-to-speech Amazon figures you can get a Kindle Keyboard or a Kindle Fire. The Kindle Touch also had text-to-speech but it's no longer being sold.
All the new Kindle Fire HD models support text-to-speech and so does the $159 Kindle Fire. I wonder if they are going to update the original Kindle Fire to add TTS too?
Like always, text-to-speech is only available if the publisher allows it (some are crazy enough to complain that it violates copyright law).
According to Amazon, the text-to-speech feature on the Kindle Fire is restricted to U.S. English and is only available in a female voice. It also doesn't appear as if there are any other adjustments available. On the Kindle Keyboard and Kindle Touch you can choose between a female or male voice and there are three different speed settings.
The voices on the E Ink Kindle are slightly robotic but they are actually pretty good. Text-to-speech has come a long way over the years. Still, TTS isn't going to be challenging audiobooks anytime soon, which the Kindle Fire also supports. In fact, Amazon introduced another new feature that syncs audiobooks and ebooks together, although I don't see why anyone would want to buy both.
Anyway, it's good to see Amazon adding text-to-speech to their tablets, but it's disappointing to see it being removed from E Ink Kindles.