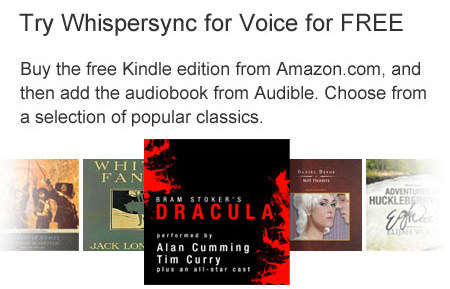 Testing out the new features on my Kindle Fire HD this evening led me to accidentally discover a killer promotion that Amazon and Audible have teamed up for to give away 22 public domain ebooks and audiobooks (listed below).
I know public domain may not sound interesting but these are classics, and the audiobooks are professionally narrated and most cost anywhere from $15 to $25 each. And there's 22 of them!
Amazon and Audible are giving away these classics to get people to test out Amazon's new Whispersync for Voice feature that syncs audiobooks and ebooks together so you can jump back and forth from reading a book to listening to the audio version.
All that's required to get this free loot is an account with Audible.com and a Kindle device or a Kindle ereading app. Setting up an account with Audible is free and you can merge it with your Amazon account to make everything easier. Then all your audiobooks will get tied to your Amazon account and will become available from Kindle devices that support audio. If you don't have a Kindle that supports audio you can use Audible's apps.
It's a two step process to getting these free ebooks and audiobooks. First you need to "purchase" the free copy of the Kindle ebook, and then once that's done the matching audiobook magically becomes free at Audible. Amazon even reminds you to download the free audiobook immediately after purchasing the ebook so it's really easy. If you don't have an Audible account, just get the ebook first and then follow Amazon's link to Audible to sign up for a free account.
Disclaimer: I have no idea how long this promotion will last. The deal could expire at any time so make sure the ebooks and audiobooks are still listed as free before purchasing. This deal will probably stick around for a while though since Amazon is using it to promote their new Whispersync for Voice service.
Here's the link to the complete list of the 22 free ebooks at Amazon.
Here's the list of individual titles.
If you missed the link for the audiobook after getting the ebook, just go back to the product page for the book. Amazon has a link for the audiobook titled "professional narration" in the Whispersync for Voice box below the price. The link disappears once you get the audiobook.