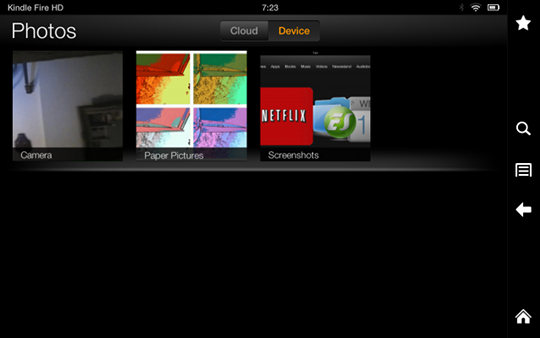 I've come across a couple of additional helpful tips for the Kindle Fire HD that I missed on the 40 Tips and Tricks post from the other day, which I just updated this morning to add a video review.
The first tip is an easy and very useful one: how to take screenshots. To capture screenshots with the Kindle Fire HD all you have to do is press and hold the volume down button and the power button at the same time.
It takes some practice to get the timing just right. I tried this out the other day right after getting the Kindle Fire HD since that's the standard way to take screenshots with Android 4.0 and I couldn't get it to work. It turns out I wasn't holding the buttons down long enough.
Screenshots get placed in the photos section on the Kindle Fire in a folder aptly named "screenshots".
Now for the directions on how to access the hidden camera and video recorder app on the Kindle Fire HD. In the earlier tips and tricks post, I mentioned there are apps like PicShop that can open the Kindle's camera in a roundabout way, but that just works for accessing the camera; there's no option for video recording or taking panoramic photos.
It turns out the Kindle Fire HD has a full camera app pre-installed, but Amazon has hidden it so that it's inaccessible. They probably did so because it's a little buggy, but it seems to work well enough.
Here's how to open the camera app:
Install ES File Explorer.
Open ES File Explorer and tap the "AppMgr" icon in the upper right corner.
Now tap the "Category" icon along the top and select "System apps".
Tap the Camera icon and hit open. That's it!
The camera quality isn't very good but the camera can come in handy sometimes. It can record video, take regular photos, and panoramic photos. There are various settings and a zoom dial. If you double tap on the screen when using the camera it will focus on that area.
Unfortunately there's no camera app icon that gets added to the homescreen so you have to use ES File Explorer to launch the camera every time.