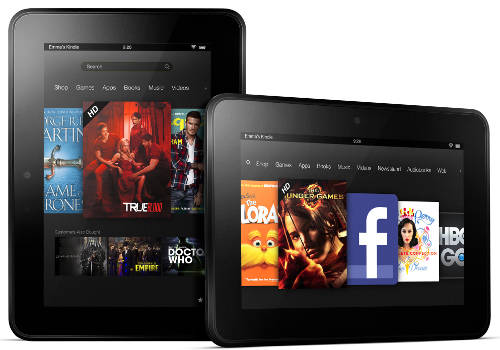 Below is a list of 40 tips, tricks, hidden features, and recommended apps for the Kindle Fire HD. There's always a lot to learn when getting started with a new tablet, and these tips can help everyone from the beginner to the advanced user get more out of their Kindle Fire HD tablets. Feel free to share your own tips and recommended apps in the comments section too!
[box type="alert"]Update: Check out this newer updated article for the 2014 Fire HD and HDX tablets: Fire HD and HDX: 50 Tips, Tricks & Recommended Apps.[/box]
Basic Getting Started Tips
1. Kindle Fire HD Help and Support – Here's the link to the Kindle Fire HD help section at Amazon where you can find user guides and help articles on getting started, setting up Wi-Fi, navigating the user interface, troubleshooting, shopping, transferring content, setting up email, and plenty more. The Kindle also comes with an app and has a section in the settings menu called "Help & Feedback" to access Amazon's help pages from the device itself.
2. Access Notifications and Settings Menu – The notifications menu is accessed by swiping down from the top of the screen. There are a number of quick settings here and the main settings menu is accessed by pressing the "More" button.
3. Install 3rd Party Apps – In order to install apps from outside the Amazon appstore, including several linked to below, you need to turn on "Allow Installation of Applications from Unknown sources" located in Settings > Device.
4. Automatic Screen Rotation – You can turn on and off automatic screen rotation by opening the notifications menu and tapping the locked/unlocked icon in the upper left corner.
5. Check Battery Percentage – Settings > Device. For a better and easier way see #30.
6. Check Storage Space – Settings > Device > Storage.
7. Parental Controls – In the settings menu there's an option for parental controls where you can setup a password to restrict purchasing content, using the web browser, accessing certain apps, and more.
8. Password Protection – In Settings > Security there's an option to set a lock screen password so that other people cannot access your Kindle.
9. Uninstalling Apps and Removing Content – Simply long-press on any app, ebook, movie, or other icon to bring up the option to "Remove from Device". For Amazon's content this moves the item to the cloud and it won't be deleted permanently.
10. Remove Items from Carrousel – Long-press icons for the option to remove them.
11. Favorites – Add individual apps, ebooks, movies, web pages, and so forth by long-pressing the icon and selecting to "Add to Favorites". These can be accessed at any time by pressing the star icon in the lower right. This works well for quickly jumping back and forth between different apps.
More Kindle Fire HD Tips and Tricks
12. Free Daily Android App – Make sure to open your Kindle Fire's appstore each day to download the free paid daily app.
13. Remove Ads – After logging into your Amazon account, go to the Manage Your Devices section of your Kindle account. From there you can choose to "Edit" the Special Offers to unsubscribe from them. It costs $15 plus tax.
14. Change Name in Upper Left Corner – To change the name that appears on the upper left corner of the Kindle Fire, login to your Amazon account and go to the Manage Your Devices page. From there you can edit the name to whatever you want.
15. Alternate Appstores – By enabling 3rd party app installs (#3), you can install apps from anywhere you please. Here's a list on some of the more popular alternate appstores.
16. Sideloading Apps – Apps can be sideloaded in a number of ways. You can place the apk files on the Kindle's internal memory and then use a file manager to locate and then tap the file to prompt install. Or you can use a file storage app like Dropbox. When using the web browser to download apps, simply tap the file once it is finished downloading to install.
17. Using Bluetooth – To use Bluetooth, first turn on your Bluetooth device. Then on the Kindle Fire HD go into Settings > Wireless > Bluetooth > Enable. Tap the device's name to make it visible, then tap the Bluetooth device's name you're connecting once it pops up (or hit search for devices if it doesn't show) and then it will be good to go. Unfortunately I've noticed that it often requires the Bluetooth device to be reconnected manually by tapping the device's name again after the device has been turned off for a while.
18. Using the Camera – Download PicShop Lite Photo Editor from the Amazon appstore (it's free, or you can upgrade to the paid version). Open the app, hit the icon in the lower left, then choose "Camera". Like the Google Nexus 7, the Kindle Fire HD has a front-facing camera but they neglected to give users a way to access it since they only intended it to be used for video chat. Update: see this post for a better way to access the hidden camera, which includes a video recording and panoramic option too.
19. Install Adobe Flash Player on Kindle Fire HD – Amazon isn't supporting Adobe Flash on their tablets anymore but that doesn't mean Flash doesn't work. All you need to do to get Flash on the Kindle Fire HD is download a web browser from an alternate appstore (#15) and the Flash Player app below. I'm successfully using the Dolphin web browser (version 8.8.1) and this version of Flash Player.
20. File Manager – The Kindle Fire doesn't come with any file management software, which can make things a lot easier if you need to move files or access folders you can't normally get access to. My favorite is ES File Explorer, and it's free in the Amazon appstore. Highly recommended.
21. Micro HDMI – The Kindle Fire HD has a micro HDMI port that works great for connecting to a TV or monitor. On Amazon, micro HDMI cables are only a few bucks. Or you can get an adaptor to fit a full size cable connector. Just make sure to get one with a "Micro" (Type D) connection to fit the Fire.
22. YouTube – You can access YouTube with the Silk web browser but the actual YouTube app is a lot better. I sideloaded the version from the Nexus 7 and it works great, even in HD. It just won't let you login. Here's the link: download YouTube apk.
23. Facebook – Here's the link to the official Facebook app at Amazon. For some reason it gets buried under miles of search results when you try to find it from the KFHD.
24. Google Maps and Street View – Google Maps and Street View aren't available on Amazon's tablets, but they work just fine when you sideload them. Here are the download links: Google Maps and Street View.
25. Calculator – Every tablet should come with a calculator app pre-installed but for some reason Amazon doesn't think that is necessary (I guess they don't want you calculating how much money you are spending on their stuff). Luckily there are number of free calculator apps in the appstore.
26. Screen Dimming – When reading at night the lowest brightness setting isn't low enough for some people, me included. With Screen Filter you can adjust the brightness of the screen to as dark as you want it.
27. Turn Off Notifications – Sometimes apps can get annoying with pestering notifications. Luckily Amazon added the option to turn off notifications for individual apps in Settings > Applications > Notification Settings.
28. PDF Reader Apps – If the Kindle's PDF app isn't cutting it, there are much better options out there. The best PDF apps available in the Amazon appstore are Adobe Reader, which is free, and ezPDF Reader and Repligo Reader for paid. If you want to sideload other PDF apps, here's a list of the Best PDF Android apps both free and paid.
29. Read ePub eBooks on Kindle Fire HD – Amazon offers various ePub reading apps in their appstore, but they are mysteriously not available on the Kindle Fire. Luckily you can sideload other reading apps such as Nook, Kobo, and Aldiko. Here's a list of ePub eReading apps for the Kindle Fire.
30. Battery Monitoring App – One way to monitor battery usage is with the GSam Battery Monitor. Another good thing about this app is that it shows the exact battery percentage in the notifications menu so you don't have to go all the way into the settings menu to find it.
31. Silk Reader – The silk web browser has a feature that takes the content of a page and cleanly re-formats it. There are different text sizes and formatting options. Look for the green glasses icon located on the web browser tab. It only appears on article-type pages.
32. Cloud Storage – In addition to Amazon's cloud drive, you can use other cloud storage options to easily save, stream, share, and move files. Two popular options that work well with the Kindle Fire are SugarSync and Dropbox. The former is available in the Amazon appstore and the latter can be downloaded from the link above.
33. Uploading Music – You can upload your personal music collection to Amazon's cloud drive and stream it or download it to your tablet. Here's the directions for uploading music. The first 250 songs are free, then you have to get a premium plan to add up to 250,000 more, which costs $24.99 per year.
34. Wireless Hard Drive – One way to expand the Kindle Fire HD's limited storage space is to get a Kingston Wi-Drive. They come in three sizes: 16GB, 32GB, and 64GB. You'll need the Kingston Android app too.
35. Select Text & Copy and Paste – When using the web browser and certain other apps, you can select and copy text by long-pressing on the word and then dragging the little arrows. To paste, long-press in any text entry field to bring up the option. You can also long-press on links and images with the browser to bring up saving, sharing, and other options.
36. Access a Computer Remotely – You can access your computer and all the files and programs on it directly from your Kindle Fire HD with the Splashtop Remote Android app.
37. Loading non-Amazon eBooks and Personal Documents – The fastest and easiest way to load non-Amazon ebooks and personal documents on to your Kindle Fire HD is to use a send to Kindle application or email them to the Kindle Fire's free email address. The unique address can be found under Settings > My Account, and can be modified from the Manage Your Kindle page under personal documents settings.
38. Downloaded eBooks and PDFs – If you download a MOBI ebook or PDF with the web browser and want it to show up on the homescreen carrousel and in the personal documents section, you need to use a file manager (#20) to move the downloaded file from the "Download" folder to the "Documents" folder. It will show up once you leave the homescreen and then come back to it.
39. Free Library eBooks – The Kindle Fire HD supports library ebooks downloaded for free from your local library. You can use the Kindle option or install the OverDrive Android app.
40. Kindle eBooks – Here are some links to popular sections at Amazon for Kindle ebooks:
Kindle Fire Video Review + Tips and Tricks