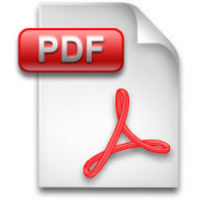 Below is a list of the best free and paid PDF Reader apps for Android. It turns out finding a good Android PDF reader is harder than it sounds.
Running a search for "PDF Reader" or "PDF Viewer" in the Android Market turns up hundreds of results, and finding one that has all the features you're looking for can take a lot of time and research, especially when the search results seem list anything with the word PDF in the title or description.
This list isn't by any means all the PDF Reader apps for Android, just the best ones I've tried over the past year on various Android tablets, and even on the rooted Nook Touch ebook reader. Feel free to add your own PDF Reader app suggestions in the comments section below.
I've included links to the Android Market so that you can jump over and read the reviews and download them if you want, along with the Amazon Appstore when available. You can probably find most of them at other app stores like SlideMe and GetJar too, and websites that host apk files like Freeware Lovers.
Best Free Android PDF Apps
Foxit MobilePDF – By far my favorite free PDF app is the Foxit Mobile PDF app. It has a number of features and most importantly it actually works very well. The Foxit app is free at Google Play and Amazon.
Adobe Reader – This app used to be really basic until Adobe updated it, and it's now one of the best PDF apps for Android. For features it has search, text re-flow with variable font sizes, pinch zooming, on-screen markup, notes, highlights, a sharing feature for sending the file to email or another app like Google Docs or Dropbox, and more. Free at Android Market and Amazon.
EBookDroid – This is a nice basic PDF viewer that is a little smoother and quicker than some of the other free apps. It has pinch zooming, a zoom dial, go-to-page with location slider, table of contents, night mode, option for 2 page landscape, and a few other misc settings. Free at Android Market.
Aldiko Book Reader – Aldiko is more of an ePub reading app, but they added support for PDF files awhile back and it does a serviceable job displaying PDFs. It doesn't have any advanced features like it does with ebooks, just search, table of contents, pinch-zooming, and go to page. It has on-screen functions for copying, sharing, and looking up words in the dictionary, but with PDFs this feature tends to have a hard time detecting the beginning and ending of a word properly. Free at Android Market and Amazon.
Bluefire Reader – Like Aldiko, Bluefire is more of an ePub reader but serves as a decent PDF viewer as well. For features it has table of contents, a page slider, night mode, pinch zooming, and different page turn settings. Sometimes you can bring up the on-screen functions for copying text and adding bookmarks, which double as highlights and text notes, but this doesn't always seem to work with PDFs. You can still add bookmarks and notes to individual pages, though, so that makes it the best option as a free app for notes and bookmarks. Free at Android Market.
APV PDF Viewer – A decent free PDF viewing app with on-screen zooming icons and different zoom settings, go-to-page, you can change to various text and background colors, search, and some other advanced settings. Free at Android Market.
Best Paid PDF Readers for Android
ezPDF Reader – Whether it be a tablet or a hacked Nook Touch, ezPDF is my PDF Reader app of choice, and it's the most popular paid PDF app for Android. It has a ton of features, including text re-flow, fit text to column, pinch zooming, text-to-speech, play embedded video and audio, active hyperlinks, thumbnail view, bookmarks, add notes, highlights, on-screen annotations, and plenty more. Costs $1.99 at Android Market and Amazon.
RepliGo Reader – I haven't used this app personally but have heard good things about it. Plus it seems to be the most popular and well-rated paid PDF Reader app aside from ezPDF Reader. Has lots of features, especially when it comes to annotating: Add highlights, cross outs, underlines, sticky notes, arrows, lines, ovals, rectangles, freehand drawings and text boxes. Integrates with Gmail, Dropbox, and Evernote. Costs $4.99 at Android Market and Amazon.
Mantano Reader – I briefly tried the free trial version of this app and it has a fair amount of PDF features. It's kind of expensive, though, so make sure to try the trial version first. PDF features include pinch zooming, margin removal, adjustment to one column for multi-column documents, TOC, word selection with a long press, copy, TTS, dictionary, search, add notes, highlights, bookmarks, on-screen scribbles. Costs $7.49 at Android Market and Amazon.
Follow The eBook Reader on Facebook.