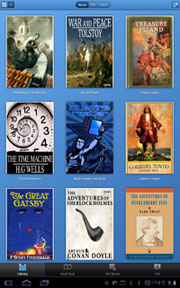 The Bluefire Reader app has arrived on the Android platform at last. Bluefire is one of the most popular ereading apps for the iPad and iPhone, and now that it has come to Android, readers have another option for reading Adobe DRM ebooks, including free ebooks downloaded from libraries.
Bluefire Reader supports EPUB and PDF formats, and requires Android 2.2 and up. You can load your own ebooks into the app, or tap the "Get Books" icon to shop and download new ebooks from Books-A-Million, Feedbooks, and a Spanish book site called TodoeBook.
What's great about the Bluefire app is that it has a lot of features and settings for adjusting the layout and appearance of ebooks. It's not quite as nice as the Aldiko app for Android, in my opinion, but it is better than Aldiko if you want to add notes and highlights, both of which are tied to bookmarks and then you can view them all in the bookmarks list.
The Android version of Bluefire looks almost exactly like the iPad version, but it's not quite as smooth and polished. It can be a tad slow at times and moving the highlight cursors is jerky, even on the blazing fast Asus Transformer.
When it comes to features, you can adjust the margins, line spacing, font size and font type, page turn settings, text alignment, and themes (font color, background color, etc).
About the only feature this app lacks is a built-in dictionary. You can copy text so you can jump to a dictionary app, but that's not as convenient as other apps with dictionary support built-in. The only other thing I can complain about is that it uses an on-screen back button when shopping from the built-in ebook stores, so if you forget and use your device's back button it will take you back to the library view and you have to start all over again.
Overall, the Bluefire app for Android is one of the better ereading apps and is definitely work a look. Here's the link for the Bluefire Reader app on the Android Market.