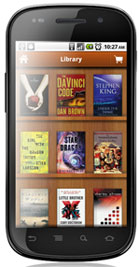 Aldiko officially released their new updated Android app today, the much anticipated version 2.0, which adds support for Adobe DRM'd EPUB and PDF ebooks and even library ebooks.
I've been testing Aldiko 2.0 on the Nook Color this morning and am very impressed. It is quite possibly the best reading app out there. They've added several new features and have streamlined the menu system and UI.
The greatest thing about it is that, after authorizing it with my Adobe ID, I easily loaded a DRM'd EPUB from the Nook's SD card. This particular ebook, like so many, suffers from horrible formatting—huge line-spacing and margins, spacing between paragraphs and indentation. But the Aldiko app overrides all that nonsense so that you can format the layout how you like it.
You can modify the margins, text size, font type and color, background color, text alignment and spacing, and adjust the brightness and screen orientation.
Other upgrades to the app include a new ebook marketplace, they've improved the dictionary, bookmark, and search functions, they added a copy text feature, sharing, made the import process much easier, and more.
This makes the Aldiko app the best Adobe EPUB reader out there. Most ereading devices and apps are stuck using the default layout and have at best two or three font types. The biggest downside with the app is that it requires Android 2.1, so all those tablets and phones running 2.0 and lower are left with the older version.
The Aldiko 2.0 app can be downloaded from the Android Market, the QR code is on the Aldiko website, and here's the apk file download from the Aldiko Customer Support.
Here's the complete list of updates and a video demo:
Supporting ePub and PDF eBook formats, as well as Adobe DRM
A new eBook marketplace for you to access eBooks from different booksellers at one place
Fully customizable reading experience: font type, font size, font and background colors, margin, alignment, line spacing, brightness, display orientation and navigation control are all adjustable to fit your personal reading preference
Rich features including bookmark, dictionary, full-text search, copy and paste, day/night themes, table of content, progress bar, hyphenation support as well as sharing your favorite texts/quotes in a book
An advanced library management system which enables you to sort books by different criteria as well as organize books by tags and collections
A new import feature which make it even easier for you to transfer all your ePub and PDF files to Aldiko and read them on the go.
A "My Catalog" feature which allows you to add your own eBook catalogs
Supporting eBooks from public libraries and enabling you to return your borrowed eBooks right within the app
Aldiko 2.0 Video Demo