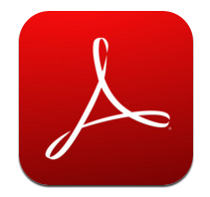 Adobe has released a major update for their Adobe Reader Mobile App for Android, iPad, and iPhone.
Before the update, the Adobe Reader app was an okay free PDF reader. There were a number of other free and paid PDF apps that worked a lot better and offered a lot more features. But now the Adobe Reader is a full-fledged PDF app with a ton of features. And the best part, it's still free.
The last time I used the Adobe Reader app it was so basic it couldn't even remember the last page read when re-opening a document. It has come a long way since then.
You can now add freehand notes, e-signatures, sticky notes, highlights, underline, and even fill out PDF forms. Other features included clickable hyperlinks, table of contents, search, thumbnail navigation, wireless printing, email PDFs as attachments, and plenty more.
Here's the list of new features for the Adobe Reader Mobile App version 10.2.0:
Easily mark up PDF content with sticky notes, the freehand drawing tool or the highlight, strikethrough, and underline tools
Add comments anywhere in your PDF file with sticky notes
Fill out PDF forms
Use the new Ink Signature tool to sign any PDF document using your finger
Send PDF files to others for electronic signing using Adobe EchoSign
The Adobe Reader app is available for download from Google Play and iTunes. Here's a closer look at how fillable forms and e-signatures work on the updated Adobe Reader app: