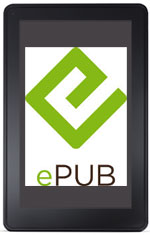 Amazon doesn't want you to know this, but the Kindle Fire supports ePub ebooks just as well as it supports Amazon's Kindle ebooks. You can load a number of different Android apps that support ePub onto the Kindle Fire, and even download ePub ebooks with the web browser and from the apps directly.
Amazon offers a number of ePub ereading apps from their own Android Appstore, in fact. But unfortunately Amazon is petty and made it so none of the ePub apps show up on the Kindle Fire, claiming they are incompatible when they clearly are not.
The good news is Amazon graciously lets us load apps onto our Kindle Fire tablets from non-Amazon sources, so loading ePub apps is as easy as finding the APK files from other appstores and websites.
But first, to enable the installation of apps from outside the Amazon Appstore, you have to open the Kindle Fire's settings menu, select Device, then turn on "allow installation of applications from unknown sources".
The worst part about getting apps this way is that they aren't always up-to-date, so you may have to try a different version of the same app from somewhere else if you are experiencing any problems. Below are links to download the apps, but I haven't tried each and every app to see how well they work so some experimenting may be in order. So far I've had good luck with these versions of Aldiko and Nook.
Kindle Fire ePub Reader Apps
Aldiko – This is the ePub app I use the most because it offers ample formatting options and is one of the few Android apps that supports Adobe DRM ebooks. You can even use it to read library ebooks. It also supports PDF files.
Nook – With this app you can essentially turn the Kindle Fire into a Nook Tablet. You can sideload other ePub ebooks into the Nook app too. You just have to place them in the Nook's My Documents folder. The only negative is the covers don't show up in the library.
FBReader – This is a good ebook app for DRM-free ePubs as well as FB2. They have a text-to-speech plugin for Android too. I tried it briefly and it seems to work okay, but FBReader is freezing up sometimes on the Kindle Fire. This app is easy to load ebooks into; just open settings and change the folder directory to wherever your ePub ebooks are located.
Cool Reader – This is a very popluar ePub Android app. It offers plenty of features and supports a lot of formats: epub (non-DRM), fb2, doc, txt, rtf, html, chm, tcr, pdb, prc, mobi (non-DRM), and pml.
Kobo – This link looks like it's for an old version of the Kobo Android app; I couldn't find any newer. Hey, Kobo, just offer the APK download direct from your support site, eh?
OverDrive – With this app you can download library ebooks and audiobooks directly to the Kindle Fire without needless extra steps (Amazon, I'm looking in your direction).
Laputu – This another option for reading ePub ebooks. The app has the usual ebook settings and has a couple of ebookstores built-in such as Feedbooks and Project Gutenberg.
Mantano Reader – This is the link to the free version; the paid version costs $7.49. Mantano supports ePub and PDF and Adobe DRM. This app has a lot of advanced features, including text-to-speech.