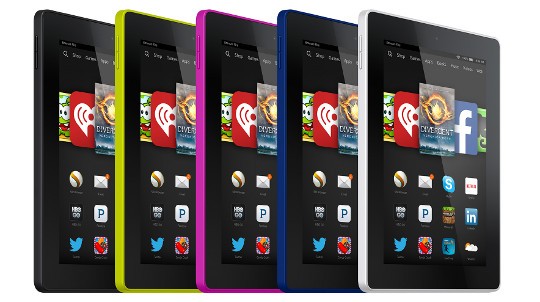 A couple years ago I posted an article with 40 Tips and Tricks for the Kindle Fire HD. Some of the tips still apply to the newer Fire HDX and Fire HD tablets for 2014, but a lot has changed since then so I wanted to put together this updated article with 50 tips, tricks and recommended apps specifically for Fire HD and HDX tablets.
Kindle Tips and Tricks Guide »
Basic Getting Started Tips
1. Fire HD/HDX Help and Support – Here's the section at Amazon with all the Fire HD & HDX help articles with everything from getting started tips, quick fixes, basic tips and help with things like settings and initial setup.
2. User Guides – All the newer Fire tablets come with the user manuals built-in; they aren't available to download online anymore. To access the user guide, swipe down from the top of the screen and tap Settings > Help > User Guide.
3. Mayday – All Fire HDX tablets have an exclusive Mayday feature accessible by swiping down from the top of the screen on the quick settings menu. Mayday lets you contact an Amazon customer service rep directly from the tablet for virtual assistance 24/7.
4. Access Notifications and Settings Menu – The notifications menu is accessed by swiping down from the top of the screen. There are a few quick settings for things like screen brightness and auto screen rotation, and from there you can access the main settings menu too.
5. Quiet Time – Accessible from the quick settings/notifications menu, quiet time mutes notification sounds and hides notifications. You can schedule Quiet Time to automatically turn on and off at certain times and when using certain apps in Settings > Notifications & Quiet Time.
6. Check Available Storage Space – Settings > Device Options > Storage. You can also choose to free up space from there by tapping the 1-Tap Archive button, which moves unused items to the cloud.
7. Parental Controls – In the settings menu there's an option for parental controls where you can setup a password to restrict purchasing content, using the web browser, accessing certain apps, and more. You can also setup child profiles and Household profiles to share content (#26).
8. Password Protection – In Settings > Security there's an option to set a lock screen password so that other people cannot access your device.
9. Display Timeout – You can adjust how long it takes for the screen to automatically turn off in Settings > Display & Sounds > Display Sleep.
10. Adjust System Font Size – You can increase the font size for all the menus and icons by going to Settings > Display & Sounds > Font Size.
More Fire HD & HDX Tips and Tricks
11. Access Recent Apps List – You can access a list of recently opened apps, books and content by swiping up from the bottom of the screen in portrait mode and from the right in landscape. This works everywhere but the homescreen.
12. Remove Items from Carrousel – From the homescreen, long-press icons for the option to remove them from the carrousel.
13. Pin Apps & Content to Favorites – On the homescreen there's a favorites list below the carrousel. You can long-press app icons, book covers, collections, and other content to get the option to add them to Home. Once added, you can organize items by long-pressing and dragging to move.
14. Uninstalling Apps and Removing Content – Simply long-press on any app, ebook, movie, or other icon to bring up the option to "Remove from Device". For Amazon's content this moves the item to the cloud and it won't be deleted permanently unless you select to delete from the cloud.
15. Disable Recommendations – By default, the homescreen shows recommendations below items on the carrousel. You can hide these by going to Settings > Applications > Home Recommendations.
16. Remove Ads – After logging into your Amazon account, go to the Manage Your Devices section of your Kindle account. From there you can choose to "Edit" the Special Offers field to unsubscribe from ads. It costs $15 plus tax.
17. Change Name in Upper Left Corner – To change the name that appears on the upper left corner of your Fire tablet, go to Settings > Device Options.
18. Install 3rd Party Android Apps – To install apps from outside the Amazon appstore, you need to enable "Apps from Unknown sources" located in Settings > Applications.
19. Alternate Appstores – After enabling 3rd party apps (#18), you can install apps from anywhere you can find them. Here's a list on some alternate appstores, or you can use the method below to get apps from Google Play.
20. Get Apps from Google Play – Fire tablets don't support the Google Play store so you can't get apps from there directly, but you can use this APK Downloader plugin to get apps from Google's appstore and then sideload them.
21. Sideloading Apps – Apps can be sideloaded in a number of ways. You can place the apk files on the Fire's internal memory and then use a file manager to locate and then tap the file to prompt install. Or you can use a file storage app like Dropbox (#36). When using the web browser to download apps, simply tap the file once it is finished downloading to install.
22. File Manager – Fire tablets don't come with a file management app; it would make things less confusing if they had one. But there are some options available in the Amazon appstore for free. One of the best is ES File Explorer.
23. Alternate Homescreen – You can install alternate homescreen launchers to get more customization options and have an Android-style tablet instead of the carrousel. However, the Fire's software makes it so a lot of things don't work right with alternate launchers. For instance, the wallpaper is usually black and cannot be changed, widgets may not work properly, and the homescreen button may or may not change. The only launcher I've ever come across with working wallpapers is Vire Launcher.
24. Adobe Flash Videos – Adobe Flash has long since been retired for Android tablets, so it's no longer worth dealing with anymore, and luckily most websites no longer use it. If you come across a site still using Flash videos, you can use the Silk browser's "experimental streaming viewer", which converts Flash videos into a format compatible with Silk. When available, a notification will appear asking if you want to use the streaming viewer. Another workaround for some sites is to choose to view the mobile version of the site for non-Flash videos. If you must have Flash support try sideloading the Puffin Web Browser.
25. Family Sharing and Child Profiles – You can create up to 4 child profiles on Fire tablets and choose what content is available for each. You can also setup Family Library sharing between two Amazon accounts to share ebooks to other content like apps, games, audiobooks, and Prime Instant Videos. See this article for details on how to setup profiles and Family Library sharing.
26. Find Your Tablet – Amazon recently added some options to help find a lost or stolen Fire tablet, including remote alarms and tracking. You can also set a password or factory reset remotely. Here's an article with more info.
27. Calculator – Every tablet should come with a calculator app pre-installed but for some reason Fire tablets don't. Luckily there are number of free calculator apps in the appstore.
28. Screen Dimming – If the lowest brightness setting is still too bright when reading at night use a ScreenDim app to adjust the brightness beyond the lowest factory setting.
29. Turn Off App Notifications – Sometimes apps can get annoying with pestering notifications. Luckily there's the option to turn off notifications for individual apps in Settings > Notification & Quiet Time.
30. PDF Reader Apps – If the Kindle's PDF app isn't cutting it, there are much better options out there. The best PDF apps available in the Amazon appstore are Adobe Reader, which is free, and ezPDF Reader for paid. If you want to sideload other PDF apps, here's a list of the Best PDF Android apps both free and paid.
31. App unresponsive or not working properly – Apps can sometimes freeze up or start acting slow or unusual. Re-starting the device will often make an app that is misbehaving start working again, but a quicker way is to force close the app. Go to Settings > Applications > Manage All Applications > Select App > Force Stop. If that doesn't work trying clearing cache and data as well. The last option would be to try uninstalling the app and then reinstalling it.
32. App won't download – Sometimes an app will get stuck downloading or won't finish downloading. Generally rebooting the device will fix this issue. Sometimes Fire tablets simply will not download an app. I had a problem with the Overdrive app getting stuck recently; the only way to get it to work was to long-press the app and select to Remove from Cloud—that deletes an app permanently, and then re-downloading seems to fix the issue.
33. Battery Monitoring App – A good way to monitor battery usage and to see which apps are using the most power is with GSam Battery Monitor.
34. Silk Reader – The Silk web browser has a feature that takes the content of a page and cleanly re-formats it. There are different text sizes and formatting options. Look for the green glasses icon located on the web browser tab. It only appears on article-type pages.
35. Save Web Pages – With the Silk web browser you can save pages (like this one) for future reference and offline reading by hitting the menu button and selecting "Save to Reading List".
36. Cloud Storage – In addition to Amazon's cloud drive, you can use other cloud storage options to easily save, stream, share, and move files. One popular options that works well with Fire tablets is Dropbox. It's not available in the Amazon appstore but the apk file can be downloaded directly from the link above using the Silk web browser.
37. Uploading Music – You can upload your personal music collection to Amazon's cloud drive and stream it or download it to your tablet. Here's the directions for uploading music. The first 250 songs are free, then you have to get a premium plan to add up to 250,000 more, which costs $24.99 per year.
38. Loading non-Amazon eBooks and Personal Documents – The fastest and easiest way to load non-Amazon ebooks and personal documents on to your Fire tablet is to use a send to Kindle application or email them to the Kindle Fire's free email address. The unique address can be found under Settings > My Account, and can be modified from the Manage Your Devices page at Amazon.
39. Select Text & Copy and Paste – When using the web browser and certain other apps, you can select and copy text by long-pressing on the word and then dragging the little arrows. To paste, long-press in any text entry field to bring up the option. You can also long-press on links and images with the browser to bring up saving, sharing, and other options.
40. Access a Computer Remotely– You can access your computer and all the files and programs on it directly from your Kindle Fire with the Splashtop Remote Android app.
Top Fire HD and HDX Tips
41. How to Read ePub eBooks – There are a number of ePub reading apps available in the Amazon appstore, but Amazon hides most of them from appearing on Fire tablets, except for Overdrive and Moon+ Reader. Luckily you can sideload other reading apps too such as Nook, Kobo, and Aldiko from alternate appstores (#19). Here's a list of ePub eReading apps for Fire tablets.
42. Web Browsers – If you don't like the built-in Silk web browser, here's eight alternative web browsers you can try. Chrome is a good choice; the only downside is that you can't login to get access to your saved tabs and bookmarks because Fire tablets don't support Google accounts.
43. How to Take Screenshots – In order to capture screenshots press and hold the power button and the volume down button at the same time.
44. Downloaded/Sideloaded eBooks and PDFs – If you sideload or download a MOBI ebook or PDF with the web browser and want it to show up on the homescreen carrousel complete with the cover, you need to use a file manager (#22) to move the downloaded file from the "Download" folder or wherever it's located to the "Documents" folder.
45. Free Whispersync for Voice Audiobooks – Each month Amazon gives away a free ebook and audiobook pair to promote their Whispersync for Voice feature that syncs ebooks and audiobooks together to switch back and forth between reading and listening. The freebie gets updated on the Whispersync for Voice page each month.
46. Free Library eBooks – Fire tablets support getting library ebooks downloaded for free from local libraries. You can use the Kindle option or install the OverDrive Android app.
47. Free eMagazines – Many public libraries offer hundreds of popular digital magazines for free. The free magazines can be downloaded once sideloading the Zinio app and are totally free and have no return dates; you can even download back issues.
48. Free Daily Android App – Make sure to check the Amazon appstore each day to download the free paid daily app.
49. Free Kindle eBooks – Here are some good places to load up on free Kindle books:
50. Kindle eBook Deals – Here are some links to popular sections at Amazon for Kindle ebooks:
Kindle Fire HDX Tips & Tricks Video