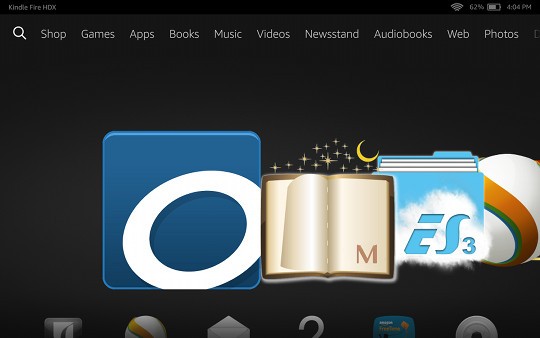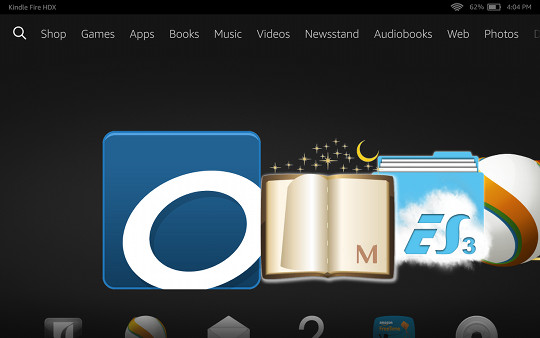 About three years I wrote an article about how to read ePub ebooks on the original Kindle Fire tablet. Surprisingly not much has changed since then—the article is still applicable—but Amazon has made some subtle changes over the past couple years that makes reading ePub ebooks on Fire tablets somewhat easier.
You no longer have to use an alternate Android appstore to sideload ePub reading apps like before, although you still have to for most, including apps like Kobo and Nook.
But at least now Amazon allows a couple different ePub apps to be downloaded directly to Fire tablets from the Amazon appstore.
You can download the OverDrive app and Moon+ Reader from the Amazon appstore on Fire HDX tablets. Oddly the newer Fire HD tablets only get OverDrive, even though Moon+ Reader works just fine when sideloaded.
Amazon offers several additional ePub reading apps in their appstore, but those are the only two that are offered on Fire tablets for some reason. Both are good reading apps though, and each offers a number of features.
OverDrive
OverDrive – The main purpose of this app is to borrow ebooks and audiobooks from public libraries for free. It can also be used to read sideloaded ePub ebooks, and the app supports Adobe DRM. There doesn't seem to be any way to add ebooks directly to the app, but you can use a web browser to download ePub ebooks if you choose to use OverDrive to download them when prompted. You can also add ebooks to a folder on the Kindle Fire's drive using a computer and USB cable, then open the ebooks using a file manager like ES File Explorer to open them with OverDrive, which then imports them to the app's library.
Moon+ Reader
Moon+ Reader – This is a really popular ePub reading app with tons of customizing features. It also supports mobi, chm, cbr, cbz, umd, fb2, txt, html, rar, and zip formats. Just choose to use this app when downloading ePub files to automatically add them to the library. Or you can easily add ebooks to the app with a file explorer or computer and USB cable by placing the files in the following folder on the Fire HDX: Books > MoonReader. Unfortunately Moon+ Reader isn't available on all Fire tablets, such as the Fire HD 6.
Although not an ePub reading app, Calibre Companion is another good option for those using Calibre to organize and manage their ebook library.