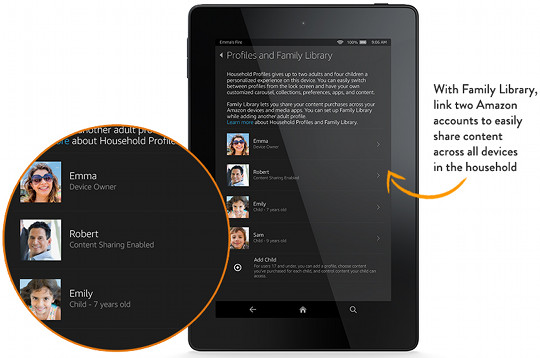 This past week Amazon issued a software update for the Kindle Voyage, Kindle Paperwhite, and $79 Kindle that adds the ability to create separate user profiles so that the device can be shared among friends and family.
The update also enabled a new feature that Amazon has just introduced called Family Library, which allows users to link two Amazon accounts together to share ebooks between accounts.
These same user profile and Family Library features are available on Fire HD and HDX tablets as well with the newer Fire OS 4 software. And with Fire tablets content sharing extends beyond ebooks to other Amazon content, including apps, games, audiobooks, and Prime Instant Video.
Since the update, there's been some confusion about how to setup Family Library and Profiles to enable sharing. The main thing is the process has to be initiated from a Kindle/Fire device itself; you cannot setup Profiles or Family Sharing from Amazon's website.
You can use the Manage Your Content page after setting things up on a Kindle or Fire tablet, but the option doesn't exist until you add a new Profile on a device first.
Setting up Profiles
You can create profiles for up to 2 adults and 4 children. With adult profiles you can share content after authorizing two separate Amazon accounts. With child profiles, adults manage all the content available on that profile.
To setup a profile on a Kindle, go to Settings > Registration and Household > Household and Family Library > Add a New Person.
To setup profiles on Fire tablets, open the settings menu and select Household Profiles. Each profile maintains personalized settings for things like email, social network accounts, the home screen carousel, book and movie locations, gaming levels, etc. You can switch profiles from the lock screen, add a custom image, and you can also manage content for child profiles using the Amazon FreeTime app.
You'll have to set a parental password when starting new profiles so they cannot access your profile. Adding another adult profile enables Family Library; the second adult has to sign in with a second Amazon account and authorize sharing (see below).
Note: According to Amazon, profiles are only available in the U.S., U.K., and Germany.
How to Setup Family Library Sharing
Family Library lets you link your Amazon account to that of another adult so you can easily share Kindle books and Amazon content across devices and apps.
It's unclear if Family Library has been setup to allow content sharing on Fire tablets yet. There's no mention about how any of it works on Amazon's help pages, but it does specifically state on the product description page for Fire tablets that Family Library allows sharing apps, games, audiobooks, books, and Prime Instant Video content between two adult accounts without changing accounts.
As of this writing, the Family Library help page at Amazon only talks about sharing ebooks. It says that each person can choose to share all of their Kindle ebooks or just selected titles when enabling Family Library.
Once you've setup Family Library, shared content appears in the Cloud tab on the Kindle and can be filtered by See My Books, See My Partner's Books, See All Books, etc. When accessing shared content, each person has their own settings for furthest page read, notes and highlights, etc.
Here's the direction on how to setup Family Sharing:
On Kindle ereaders go to Settings > Registration and Household > Household and Family Sharing and add a second adult profile.
On Fire tablets open the settings menu and select Household Profiles to add an adult profile.
You'll be asked to hand the device to the person for them to sign in with an Amazon account and authorize sharing.
You can choose specific ebooks to share after setting up a profile. Once a profile is setup, you can use the Manage Your Content page at Amazon to share content by checking the box next to the Kindle books that you want to share and then click Add to Family Library. From there you can choose the adult or kid's FreeTime profile that you'd like to share the selected content with.
Tip: If you do not see the Add to Family Library button, click Show Family Library. This option only appears after creating a profile on a Kindle or Fire tablet.