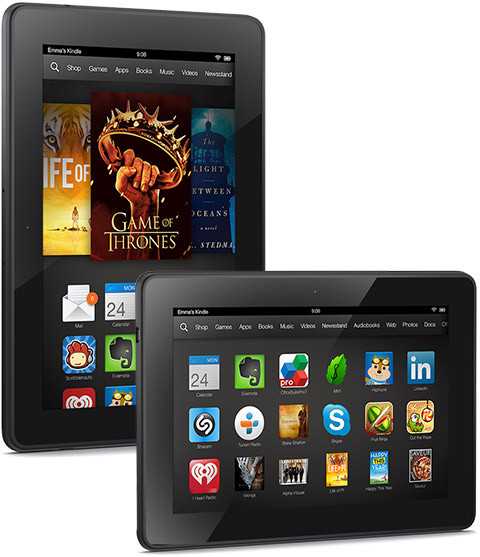 Amazon has started issuing an over-the-air software update to their line of Fire HDX tablets. The new software version is 4.1.1 and it includes a number of changes and new features.
The update is a major one and changes the software from Fire OS 3 to the new Fire OS 4 "Sangria" software that comes on the new Fire HD 6 and Fire HD 7 tablets. Fire OS 4 introduces a slight tweak to the visual design, with new app icons, and adds a number of software enhancements, including user profiles, full screen mode, a new weather app, and more.
Amazon sends out updates automatically, so all Fire HDX tablets will get the update eventually. You can check manually on the Fire by going to Settings > Device Options > System Updates > Check Now.
The update can also be downloaded to a computer and sideloaded onto the Fire tablet via USB to update manually. The directions and downloads can be found on the Kindle Software Updates pages.
Below is a summary of the release notes for Fire OS 4.1.1 for Fire HDX tablets.
Fire OS 4.1.1 Changes
Profiles: Profiles can be setup so that each family member can use the device for their individual email, Facebook, and Twitter accounts, bookmarks, game levels, etc. (Family Library still hasn't been enabled, however).
Office Documents Support: Amazon is now touting full support for creating, editing, and viewing Word, Excel and PowerPoint files on Fire tablets using the free WPS Office app. (WPS doesn't actually come with the update, however; you have to download it from the appstore).
Improved Battery Life: Fire OS 4 introduces a new Smart Suspend setting (enabled by default) that improves battery life by limiting excessive energy drain from having Wi-Fi connected when not in use.
New Weather App: A new weather app has been added that provides a quick snapshot of hourly and daily weather.
Full-Screen Mode: Games and apps now automatically enter full screen mode, removing the grey arrow of old.
Backup & Restore: You can automatically backup device settings, configurations, bookmarks, and so on to Amazon's cloud for free.