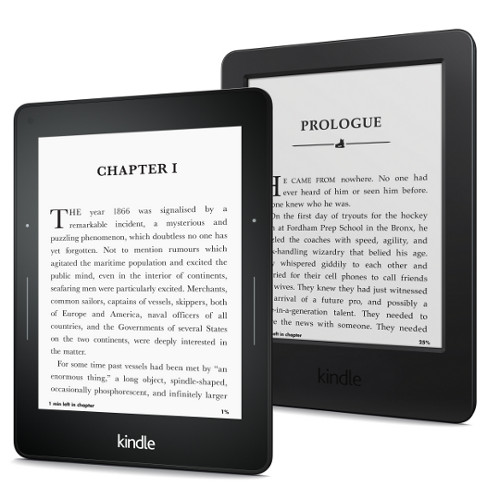 Amazon has started rolling out a software update for the Kindle Voyage, Kindle Paperwhite, and entry-level Kindle.
The new software version is 5.6.1. The software number is the same across all three devices, although the actual update file is different for each model.
The software adds the advertised features that we've been waiting on for this year's new Kindles. The most notable new feature is support for Family Library. This makes it so you can link two Amazon accounts from the same household to share ebooks across Kindle ereaders and apps.
See the Family Library help page at Amazon for details on how to set everything up.
Another new feature that has been added with this update is Word Wise. This displays hints for difficult words in the form of simple definitions and synonyms. The hints are displayed inline above difficult words while reading. You can tap on a word to quickly bring up a card with definitions, synonyms, and more. You can adjust the number of definitions displayed using a slider. Word Wise is only available on certain titles. Some early entries include The Hunger Games, The Giver, and Wonder.
Support for FreeTime Unlimited has been added as well, a monthly subscription service for children's books for kids ages 3-8. This was previously only available on Fire tablets.
Additional upgrades include X-Ray improvements, which adds an improved timeline with the ability to browse images and filter by Notable Clips, deeper Goodreads integration makes it easier to access and update reading status and adds the ability to preview and purchase books without leaving Goodreads, and periodical reading has been improved to add access to 40 magazine back issues from the cloud on your device, and now multiple issues of the same periodical are collected together.
Like usual, you can wait for the firmware update to download and automatically install on your Kindle without any intervention on your part. Or you can download the update to a computer and manually install it yourself. The download files and directions can be found on the Kindle Software Updates page.