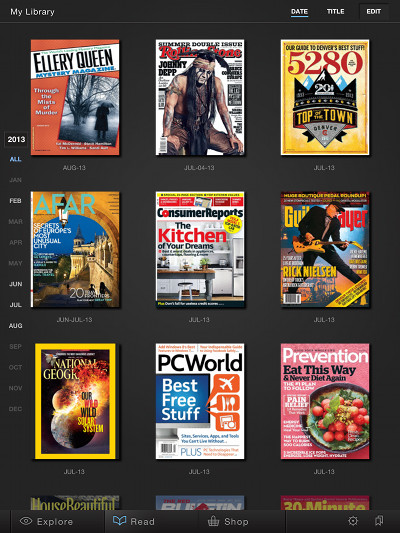 Last week I posted an article about how it's now possible to get dozens—even hundreds—of digital magazines through Zinio for free from public libraries. You can download as many magazines titles as you want for free, and you never have to return them. It sounds too good to be true, but I've tried it out and it's not. The whole things is getting very little news coverage around the internet, so I wanted to reiterate once again just how big of a deal this is.
It depends on your local library's selection, but we aren't talking about crummy magazines you've never heard of before. No, these are popular bestselling titles.
My library currently has about 200 digital magazines. There are no limits. I could download every single one of those if I wanted, all for free. And I'd never have to return any of them. And then I could do it all over again when new issues come out. Kind of crazy, huh? It's a lot different than getting ebooks from libraries where you can only checkout so many at one time, and then they automatically expire after 2-3 weeks.
I normally don't even read magazines, but while browsing through the different titles at my library I found some that looked intriguing, so I downloaded about a dozen different titles to test on my iPad 3, which is probably the best device for reading digital magazines. Larger Android tablets like the Nook HD+ and 8.9″ Kindle Fire HD would work well too. The magazines are compatible with computers and Blackberry devices as well.
One of the best magazines from my library is the interactive version of National Geographic. It's made for tablets, and has interactive features, audio and video, scrollable articles, moving pictures, and other advanced features. It's quite impressive, and it's surprisingly detailed and lengthy.
The concept of giving away magazines through libraries still seems a bit odd to me. I'm surprised publishers are okay with this. It seems like this kind of thing could hold back sales when you can just get them for free instead. Perhaps they plan on doing something like altering the free titles available periodically so that you can't keep getting one subscription over and over again for free. I'm not sure how that's going to work, but it could be a good way to get readers hooked.
So have you had time to try any free digital magazines from public libraries yet? If so, what do you think about them? Do you think having access to free magazines will make you more or less likely to buy them in the future?
If you still haven't gotten any magazines from the library and would like to, there's a video tutorial about how to do so on this earlier post. Basically all you need is a library card and a Zinio account. It's super easy. And if your library doesn't have Zinio magazines, you could probably get them through other public libraries that offer cards to non-residents.
Update: Check this out, free magazines aren't just limited to current issues anymore: Zinio Now Offers Free Back Issues of Magazines Through Public Libraries.