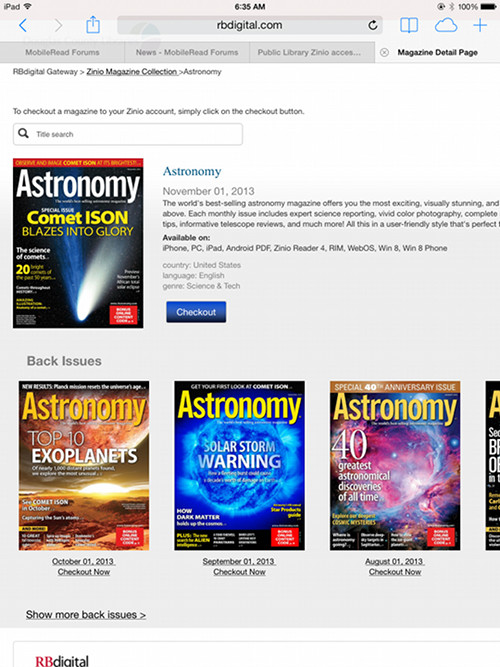 A few months back I posted about how Zinio now offers hundreds of magazines for download for free through public libraries. It's kind of like borrowing ebooks from libraries, except with magazines you never have to return them, and you can download as many as your library carries.
Being able to download dozens of popular magazine titles for free is a great way to get digital magazines. It still seems a little too good to be true, but it's been 3 months and the system is still going strong. My library's selection of magazines continues to grow. There are now over 240 separate titles. And now they've added the ability to download back issues of most titles.
That's right. Zinio now offers back issues through public libraries.
It varies from title to title just how far issues go back. A lot of them seem to go back to December 2012, but I happened to notice that Business Week offer back issues all the way back to January 2003. That's over 500 back issues!
Zinio has apps for iPad/iPhone, Android, Blackberry, and desktop computers, so there are options for just about everybody. There's a video tutorial on this earlier article if you need help getting started.
When Zinio first started offering magazines through libraries, I thought maybe that they would alter the titles available each month instead of offering the same titles over and over for free, but that's not been the case so far. With a model like this, I really see no reason to buy the subscriptions if you can keep getting them for free through the library instead. Especially now that there are back issues if you forget to download an issue, you can go in and download it whenever you want. What a great system!
The only problem that I'm finding is that I still haven't read most of the magazines that I downloaded initially. I guess I just don't like magazines all that much, even when they're free.
via MobileRead