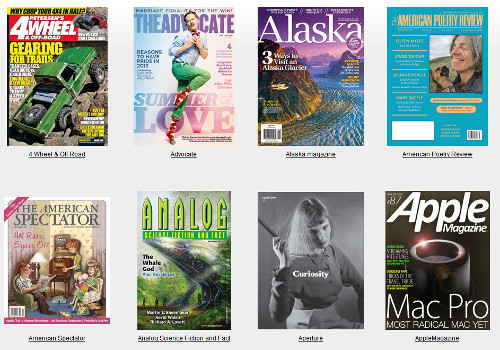 I've got some good news for anyone who enjoys reading digital magazines. Borrowing ebooks for free from public libraries using OverDrive has always been a great way to legally read ebooks for free, and now thanks to a new partnership between Zinio and Recorded Books you can get digital copies of dozens of magazines for free too.
This is a pretty big deal. I recall seeing the press release last month but the way the title was worded I didn't grasp the full impact of the partnership until I came across this post at MobileRead.
The results of the partnership have come to fruition very quickly. There are already over 1,400 libraries offering digital magazines from Zinio. In fact my local library has 140 different e-magazine subscriptions available; check your local library because they may have them too.
There are lots of popular titles available for download, including Consumer Reports, Car & Driver, Good Housekeeping, The Economist, ESPN Magazine, and Esquire.
The most interesting thing about this arrangement is the fact that digital magazines have no due dates, each issue can be kept indefinitely. There are also no limits; you can check out as many magazines as you like. The magazines can be read on desktop computers and through apps for iPad/iPhone, Android, and Blackberry.
The only catch is there is no automatic delivery, you have to check out titles manually with each issue. You also cannot access back issues, not unless you've previously downloaded them.
In order to checkout magazines you have to setup an account with your library and with Zinio. You can find complete directions on your local library's website if they support digital magazines. Below is a video tutorial that outlines the process of setting up and getting Zinio magazines from your library. Update: The initial video was removed so I added this different one that describes the process of getting everything setup for a specific library—it's the same for other libraries too.
Zinio Patron-Borrower Overview