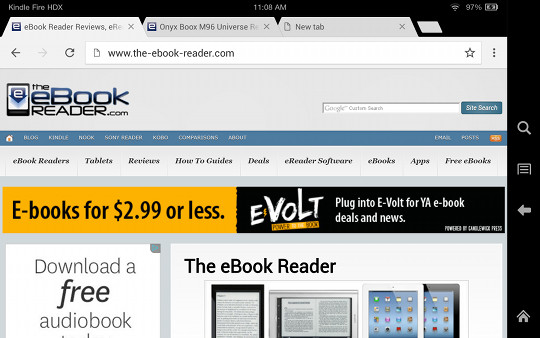 I've been working on the review for the Fire HD 6 and I've come to the conclusion that the so-called "improvements" to the built in Silk web browser aren't enough to keep me interested.
So yesterday I decided to install a better web browser. There are a number of Android browsers that can be sideload on any Kindle Fire tablet, some that even support Adobe Flash, but I've settled on using the Chrome web browser.
Chrome runs super fast and it's silky smooth, pardon the pun. I also like how the url bar disappears when scrolling to give it a full screen view, and how you can easily swipe between different opened tabs. The only downside is you can't login to get access to your saved tabs and bookmarks because Fire tablets don't support Google accounts.
The Silk browser does offer a couple of advantages over Chrome. The Reading Mode feature breaks down a web page into simple text, with adjustable font settings. But the regular view wastes a lot of space with the bars at the top. Full screen mode is nice but whenever you open another tab or go to a different app it reverts back to tabbed view.
Chrome just seems to be better suited for the Fire HD 6's smaller screen. I noticed that it uses the phone version instead of the tablet version, so it doesn't have tabs at the top. Swiping down from the url bar opens the multi-tab window where you can open, close, and swipe through opened tabs.
I installed the same exact app on the 7-inch Fire HDX, and it uses the tablet version of Chrome instead, which displays individual tabs on top. You can also swipe through tabs across the url bar with it too.
Here's a video review showing the Chrome web browser in action on the Fire HD 6 and 7-inch Fire HDX.
Fire HD & HDX Chrome Browser Video Guide
How to Install Chrome on Fire HD and HDX
First, you have to enable the installation of third-party apps from the Fire tablet's settings menu by going to Settings > Applications > Turn On Apps from Unknown Sources.
You can install Chrome from a number of alternative Android app stores. Amazon doesn't offer it through their appstore, of course. I downloaded the latest version of Chrome from APKMirror.
You can download the apk file directly using the Silk web browser. Then swipe from the left to open the downloads section and then tap the downloaded file to prompt install.