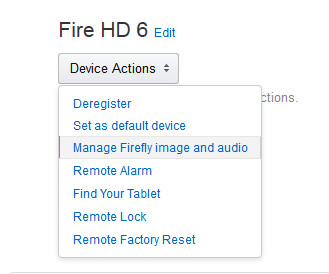 Today I was checking out the Manage Your Devices section at Amazon and noticed some new options under "Device Actions" for Fire Tablets.
Maybe I just haven't been paying close enough attention lately, but there seems to be a whole set of new functions available that I don't remember ever seeing before, including several remote action options.
There's "remote alarm", which makes your Fire tablet beep for 2 minutes. This is intended to help you find the device when it's misplaced, of course. I tested it out and it's a good idea but there is one serious flaw: it only works when the Fire tablet is connected to the internet. So if it's powered off or even just in sleep mode, it won't work because Amazon's servers cannot connect to the device via wireless.
There's also a second remote option for "Find Your Tablet". This requires location-based services to be enabled on the Fire tablet from the wireless settings menu. I tried testing it and couldn't get it to work for some reason.
Another option on the revised Device Actions list is to set a device password remotely so that the Fire tablet requires a pin or password to turn on. You can also include a message that will get displayed on the home screen. This sounds like a good option for customers that happen to forget their Kindle somewhere or misplace it.
The option for remote factory reset has been added as well. This deletes all content from a Fire tablet and returns it to factory defaults. Amazon notes that if the device has less than 30% battery power, it will be put into a locked state until it has enough juice to complete the factory reset.
So what all this appears to amount to is Amazon giving customers more control over how to manage Fire tablets that have been lost or misplaced. It sounds like a good idea given how easy tablets are to lose or forget where they are, especially when kids are involved.
Aside from the remote options, there's an additional option for the newer Fire HD 6 that seems a little odd. There's an action for "Manage Firefly image and audio". The thing is the Fire HD tablets don't support Firefly, just the newer 8.9″ Fire HDX and Fire Phone. So it's either an error or Amazon is getting set to add Firefly support to the newer HD tablets as well.