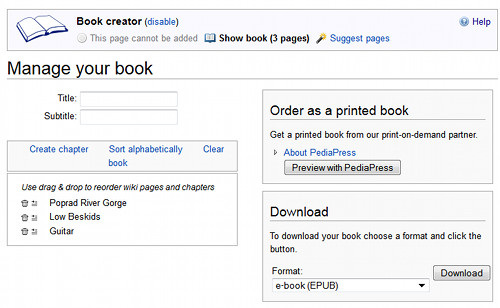 Earlier in the week, Wikimedia announced that a new ebook export feature has been added to Wikipedia that allows users to select individual or multiple articles and export them as an EPUB file to read offline on ebook readers and other mobile devices. The ebooks can also be exported in PDF and OpenOffice formats.
All you have to do to create an ebook out of Wikipedia articles is hit the print/export option located on the left navigation list from any Wikipedia article, then select "create a book". This launches the book creator page where you can enable the book creator box that will then get placed at the top of each page.
Now when you visit Wikipedia pages you can use the book creator to add pages to your book. It also shows how many pages you've added and it can suggest pages too.
Once you get all the articles added that you want to export, you can head on over to the "manage your book" page and download the ebook. You can also rearrange the articles into a specific order and create different chapters. You can even create a paper copy of the book via PediaPress if you are so inclined.
This reminds me of a service I posted about a couple of years ago called eReadUps that can take articles from Wikipedia and a few other reference websites and convert them to MOBI or EPUB format to read on ebook readers. They can even send the articles to the ereader via email, including the Kindle's free email address.
It would be cool if Wikipedia could build on their new export feature and add a "send to" option too, not to mention adding MOBI format for the Kindle.
Anyway, it's a good start. Head on over to Wikipedia and try it out. Here is the link to a video tutorial.