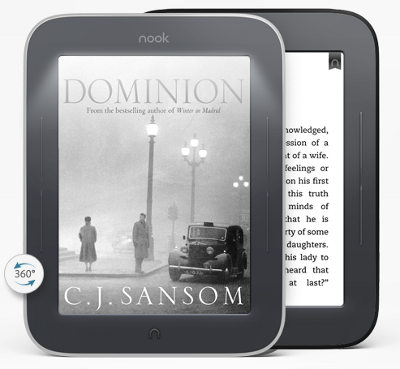 Barnes and Noble is finally starting to roll out their expansion plans in the United Kingdom (better late than never).
The Nook Touch and GlowLight Nook are both available for pre-order from several UK retailers, including Argos, Currys, Blackwell's, and Foyles, among others.
The Nook Touch sells for £79 and the GlowLight Nook sells for £109, and both will be available in stores starting in early October.
Barnes and Noble's new Nook HD tablets are headed to the UK too, but not just yet. They will start taking pre-orders in late October, and will arrive in stores at the end of November. The 7″ Nook HD will sell for £159 and the 9″ Nook HD+ will sell for £229.
B&N hasn't officially launched their ebookstore in the UK yet, but it stands to reason that it should be opening in the next few days when the pre-orders start going out. And it sounds like B&N is bringing the majority of their digital library to the UK, because the press release boasts 2.5 million books, newspapers, and magazines.
More info can be found at Barnes and Noble's new UK Nook store. Here are a few stores that have the Nook Touch and GlowLight Nook up for pre-order: