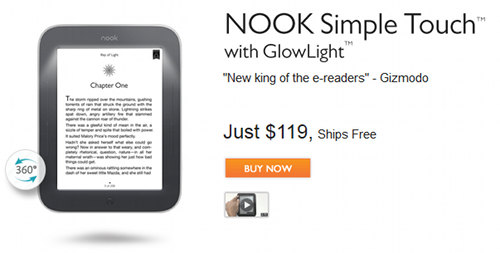 Witnessing the back and forth between Amazon and Barnes and Noble can be quite entertaining. This time around B&N is dropping the price of their GlowLight Nook Touch by $20, making it the same price as the Kindle Paperwhite.
B&N also likes to point out in bold script that a power adapter is included at that price and there are no ads, unlike the Kindle where you have to pay $10 more for a wall charger and $20 more to remove the ads.
Regardless of those two facts, it's going to be an uphill battle for GlowLight Nook Touch. The Kindle Paperwhite and Kobo Glo both have higher resolution screens than the Nook, which is compounded by the fact that the biggest complaint with the GlowLight Nook is the slight loss in contrast due to a screen protector over the top of the screen that distributes the light.
Nevertheless, for those looking for an EPUB-supporting, Android-powered, frontlight-equipped ebook reader with physical page-turn buttons, the Nook Touch with GlowLight is now $119 instead of $139.
The regular Nook Touch is still priced at $99, so it's only $20 more for the frontlight upgrade, which is a good deal when you consider the price of buying a separate reading light and batteries.
Now if only B&N would start using the higher resolution screens like Amazon and Kobo…