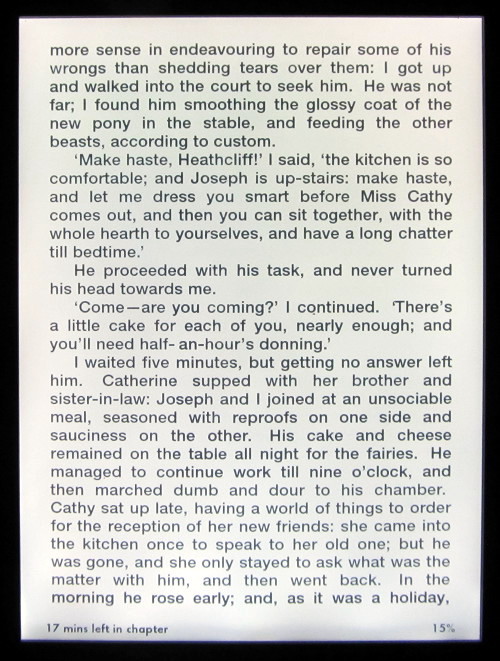 As I mentioned in the Kindle Paperwhite video review the other day, the Paperwhite's front lighting isn't perfectly uniform over the entire screen like all the pictures suggest over at Amazon.
For the most part it's not a big deal. At the bottom of the screen there's sort of a wavy shadow created by the LED lights that is more visible in lower ambient light than bright light. I don't find it very distracting, but I do continue to notice a slight discoloration toward the upper half of the screen, and I'm starting to wonder if it's normal or a defect.
If you look closely at the picture above, you can see sort of a bluish-green shadow that starts below the second line and goes down through the second paragraph, with a slight yellowish tinge surrounding it that's not as white as the lower half of the screen.
The discoloration is subtle, but it is noticeable while reading. See how much darker the background is behind the words in the fourth line "I found him smoothing" than it is behind "coat of the". Then compare that with the lower half of the screen where the screen is at its whitest.
If you're having a hard time seeing it in the picture above, here's a customer picture uploaded at Amazon that shows a more severe case—the colors are not nearly that bright on my Paperwhite.
The picture I took above is a fairly accurate illustration of the slight color variances on my particular screen, although it's a hard picture to take. As you can see it's not a big deal. The lighting is still a lot more uniform than using a reading light. But seeing as how the discoloration is more noticeable on some screens than others, and the fact that some pictures online don't show it at all, it brings up an interesting question: is a slight amount of discoloration normal on the Kindle Paperwhite's screen?
How about you. Does your Kindle Paperwhite have any discoloration aside from the shadows at the bottom? I find it's not very noticeable in bright light, more so in areas with lower ambient light.