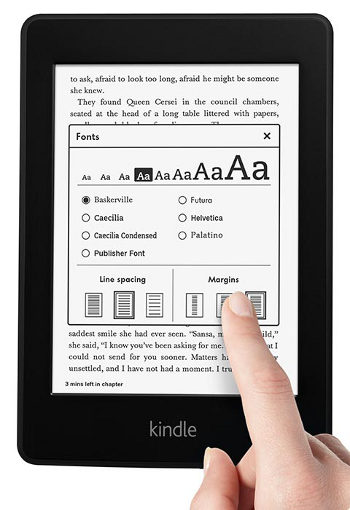 Here's an interesting twist to the Kindle Paperwhite saga. Amazon has added a "We want you to know…" section to the Kindle Paperwhite's product description page that links to a separate disclaimer page explaining "certain limitations" that Amazon wants you to know about.
The three topics discussed include the lack of audio support and text-to-speech (Amazon is now plugging the Kindle Fire tablets for that), the fact that the Paperwhite comes with half the storage space as some previous Kindles, and of course the uneven lighting that has been a hot issue since its release. They even added pictures showing examples of the uneven lighting.
The pictures give a fairly accurate representation of the shadows at the bottom of the screen, but the pictures aren't very big so it's kind of hard see details.
None really show the blue and yellowish spots described by many Paperwhite owners, including myself. The picture in the lower left does sort of show darker spots in the upper middle of the screen; the area to the right of the search icon certainly looks lighter than the area to the left of it. But it's hard to tell.
In the disclaimer Amazon admits that under certain lighting conditions (low ambient light), the lighting at the bottom of the screen isn't perfectly uniform. They claim the variations are normal and the lighting is still more even than using a book light or lighted cover. They don't mention anything about bluish or yellow hues so by their own definition that isn't normal.
Two things are clear. #1. Amazon is selling a lot of Kindle Paperwhites, so many that they can't keep up with demand, as evident by the 4-6 week shipping delay for current orders. #2. Amazon is getting a lot of complaints and questions about the Kindle Paperwhite's uneven lighting, and lack of audio support and memory limitations. Enough to warrant placing a "We want you to know…" disclaimer toward the top of the product page for the first time in Kindle history.
Right now it looks like the fate of the Kindle Paperwhite could go either way. It could be a huge success or a huge flop.